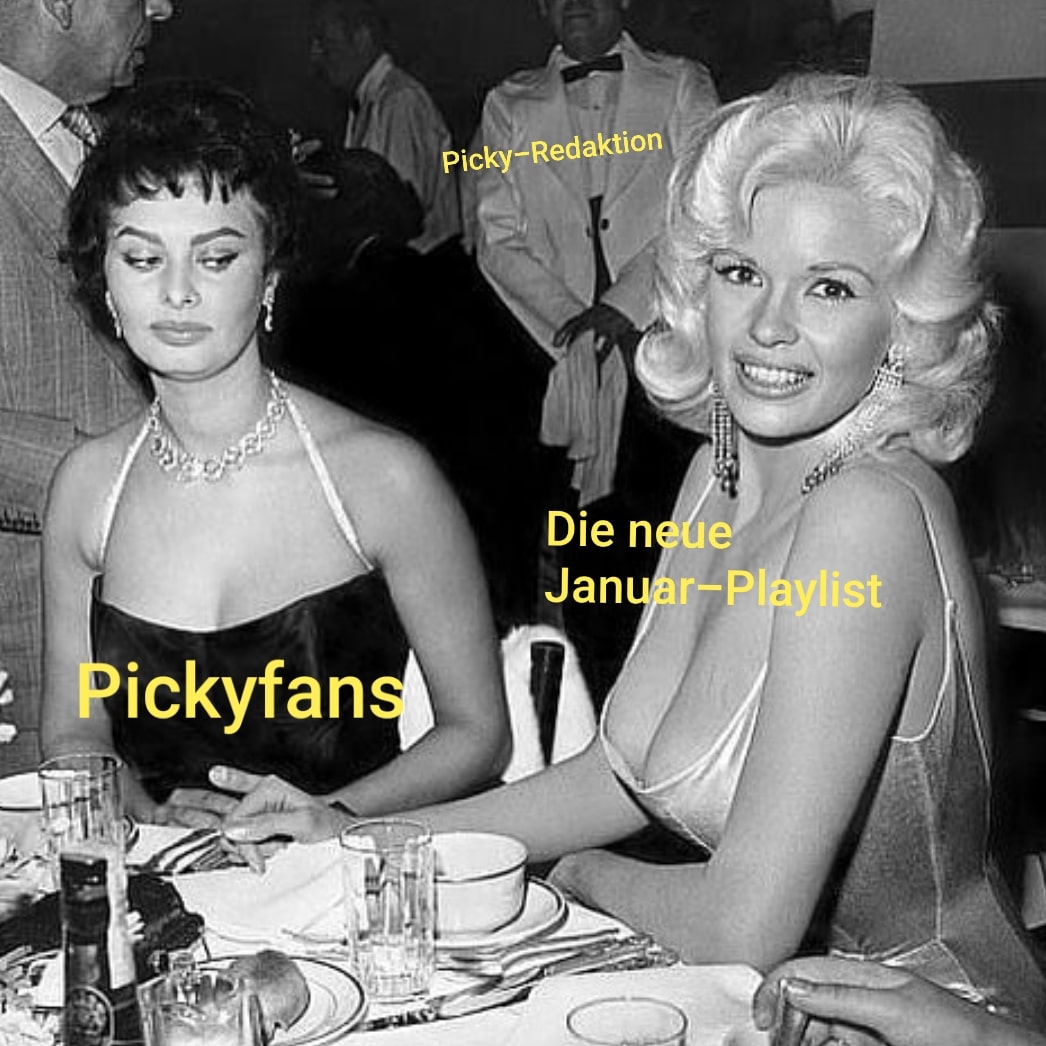 Nur einen Monat into 2019 and life und es ist schon so viel passiert! Die ganzen putzigen Jahresrückblicke im Dezember, die von Privatfunk-Eigentum moderiert und mit billigen Jingles untermalt wurden, haben mich inspiriert. Ich dachte mir, wieso nicht jeden Monat einen Rückblick veranstalten? Wäre doch schön. Gedacht und umgesetzt: Also gibt es nun immer am letzten Tag des Monats eine Art Fusion aus den ehemaligen #TopTenPicks und anderen coolen Songs, die mir die letzten Wochen so ins Ohr geflossen sind. 
Von Wegen Lisbeth singen ja in Bitch: Was ist heute so passiert? Wir nehmen jetzt mal diese Gesangsline und ersetzen sie im Geiste durch: Was ist diesen Monat so passiert? Selbe Betonung, selbe Aussprache, das ist die Jingle für Pickymags Monatsrückblick.
Ready, Steady, Go!
Anfang Januar wurden mir Mykket Morton mit ihrer neuen Single Someone präsentiert. Die vier Jungs, sorry, Männer aus Kassel haben wirklich eine stabile Fanbase, denn in der Review habe ich sie ironischerweise mit Nickelback verglichen, woraufhin ein Kommentar mich erreichte, dass dies eine Frechheit wäre. Fand ich ziemlich süß. Anyways, die neue EP Traveller von Mykket Morton, kommt trotzdem am 15.02! 
Find someone who defends you like Mykket Morton Fans defend Mykket Morton. 
Weiter im Monatsrückblick. Anfang Januar war ich dann kurz in Berlin, um mich mit Tristan von TOMBOLA über die vergangene Tour, quer durch Deutschland zu unterhalten. Das war ziemlich spannend, denn für eine junge Band gibt es noch einmal ganz andere Probleme, als kein weichen Betten im Tourbus zu haben:
Für uns war das nämlich vor allem auch ein Test. Wie krass gehen wir uns nach einer Woche 24/7 miteinander abhängen auf den Sack? Kommen wir in fremden Städten gut an?
Das Interview war ziemlich angenehm und hat echt Spaß gemacht! Danke Tristan! 🙂
Wieder in Hannover, besuchte ich das Prada Meinhoff Konzert in der Glocksee. Das wohl explosivste Duo seit Bud Spencer und Clarence Hill. Zumindest habe ich mich nach dem Konzert so gefühlt, als wäre ich verprügelt worden. Aber auf schöne Weise. Prada Meinhoff gehören auf alle Fälle zu den Bands, die laut sind – und auch laut sein können. 
Insgesamt war das Konzert ziemlich laut, energetisch, wütend und mit sehr viel Lärm. Also wirklich Lärm. Extrem verzerrte Bass-Solos, lautes Geschrei von Christin und manchmal wirklich einfach nur Störgeräusche. 
Noch mehr Details zum Konzert, wie zum Beispiel, wann sich der erste Zuschauer ausgezogen hat, findest du natürlich im Konzertbericht selbst.
Mitte Januar wurde es dann Zeit, sich mit den diesjährigen Festivals zu beschäftigen. Ich habe mich also hingesetzt und einen kleinen großen Festival-Guide zusammengebastelt. Mit Glitter. Dabei habe ich gemerkt, dass einige Webseiten von eigentlich guten Festivals echt ein schlechter Witz sind. Das man immer versucht, indie und anders zu sein, kann ich ja schon verstehen, aber zumindest Ticketpreise und Datum kann man wohl erwarten, oder? 
Mitte Januar, der Monatsrückblick schreitet voran, wurde dann die EP Love, Lost von Dahlia Sleeps veröffentlicht. In meiner Review schrieb ich absolut begeistert von den sanften Sound-Konstrukten, die die Band aus London scheinbar so mühelos aufbaut. Tolle Synthie-Sounds mit wunderschönem Gesang. Zeitweise musste ich an The 1975 Songs denken. Das scheint wohl die feine englisch Art zu sein. 😉
Ende Januar habe ich dann die Tour von Long Tall Jefferson angekündigt. Der schweizer Singer & Storyteller ist schon seit den Anfängen auf meinem Radar, weshalb es für mich eine besondere Ehre war, seine Tour zu präsentieren. Long Tall Jefferson hat mittlerweile zwei Alben im Gepäck, mit denen er die Massen begeistert. 
Erst neulich veröffentlichte die Berliner Sängerin Mine ein spannendes Musikvideo zu ihrer kurz vorher erschienen Single Klebstoff. Darin stellt sie sich mit einer weißen Jacke auf eine weiße Brücke und schreibt auf ein Schild: Ich bin nicht mein bestes Ich. Wenn du dich darin wiederfindest, dann schreib deinen Namen auf mich!
Am Anfang checkt natürlich keiner der Passanten, was Sache ist. Aber irgendwann kommt jemand auf den Trichter und am Ende des Videos ist die Jacke voller Namen. Ups, gespoilert! 😉 Schöne Idee, finde ich. Das Video findest du übrigens am Ende der Review zur Single.
Der Monat Januar schließt dann mit einem exklusiven Interview mit Lucy Hill, Frontsängerin und kreativer Motor von Dahlia Sleeps. Wie man vielleicht merkt, finde ich die Band richtig gut. Hihi. Daher war auch dieses Interview wirklich spannend und interessant für mich. Unter anderem wird nämlich der Bandname erklärt, dieses Mal spoiler ich aber nichts. Das musst zu schon selbst nachlesen! 😉 
So, liebe Picky-Leser, das war es auch schon mit dem Juicy Januar. Ich hoffe ihr hattet die letzten vier Wochen genauso viel Spaß beim lesen, wie ich beim schreiben! Als Dank für den tollen Support gibt es jetzt meine saftige Januar-Playlist für euch! Wenn euch das Cover schon anturnt, dann wartet erstmal ab, bis ihr den ersten Song hört! 😉