Heute ist es endlich soweit! Dahlia Sleeps veröffentlichen ihre lang ersehnte EP Love, Lost. Letzten Jahr im September bin ich über Dahlia Sleeps erste Single-Auskopplung Storm gestolpert und war sofort begeistert! Die vier Musiker aus London haben sich hier wirklich hingesetzt und ihre Hausaufgaben gemacht. Love, Lost sind sieben sehr starke, fast schon ineinander wachsende Songs, die eine angenehme Schwere erzeugen und glücklich lächelnde Melancholie in einem freisetzen. Aber ließ einfach selbst.
Das Intro klingt richtig einnehmend. Man wird sofort in Dahlia Sleeps Traum gezogen. Eher, man fällt durch dunkle, schwere Wolken, tiefer und immer tiefer. Treibende Klavierakkorde, dazu diese kristallklare Vocals. ASMR-Fans aufgepasst, Lucy Hill singt dir praktisch direkt ins Ohr. 
Dann kommt der Sturm. Über Storm hatte ich ja schon geschrieben, nach so einem kurzen aber super atmosphärischen Intro kommt Storm aber noch mal eine ganze Ecke geiler. Muss ich wirklich sagen. 3 Minuten into Dahlia Sleeps and it already give me the weeps. Oder so ähnlich. 🙂 
Settle Down wurde auch bereits released, ich hab mich aber noch nicht dazu geäußert. Ganz ehrlich: Irgendwie klingt das etwas nach Helene Fischer für mich. Nach so zwei filigranen Nummern kommt Settle Down wie der dicke Deutsche daher, der sich nach 40 Jahren Haxen- und Weißbierkonsum im Krankenhaus darüber wundert, dass seine Leber den Geist aufgibt. Bitte nicht falsch verstehen, Settle Down ist natürlich trotzdem sehr schön zu hören mit den Synthies, den fantastischen Vocals und dem Gitarrensolo ab 2:42. Trotzdem muss ich bei dem Song irgendwie an Brigitte und Doris denken, die sich im Schützenfestzelt die maximale Blöße geben und aus vollem Hals mitgröhlen. 🙂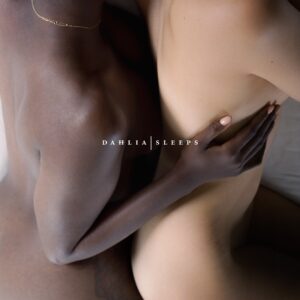 Dann kommt mit Interlude (Still Loving You) eine wahre Vorzeige-Interlude. Richtige Gänsehaut. Der Monsieur aus Ziemlich beste Freunde erhebt sich zu diesem Soundtrack aus seinem Rollstuhl und schwebt der Stratosphäre entgegen. Wer auch immer da noch still geliebt wird: Hör genau hin, das passiert nicht alle Tage, dass man so ein Musikstück geschenkt bekommt. So schnell wie die Interlude gekommen, so schnell ist sie auch schon vorbei und wir nähern uns dem Kernstück der EP.
Love, Lost erinnert mich anfangs an einen The 1975 Song. Die Produktion ist einfach erstklassig. Erste Sahne. Irgendwie die perfekte Mischung aus elektronischen und organischen Elementen. Ruhig, melancholisch und dabei auch noch interessant!  Für das Kernstück einer EP vielleicht etwas zu ruhig, aber Dahlia Sleeps würde ich sowieso nicht in die Moshpit-Band-Sparte einordnen, von daher bleibt alles schön harmonisch. 🙂
So ähnlich wie bei der Tiflis Transit EP habe ich bisher keinen einzigen Punkt an Love, Lost gefunden, der mich stört. Da setzt To The Water der ganzen EP noch eine glitzernde Krone auf. Ausgefeiltes Drumkonstrukt, harmonische Backings und Percussions bei denen ich inzwischen nicht mehr weiß, ob das eine Gitarre oder ein Synthie ist. Tatsächlich kommt dieser Song als einziger etwas kantiger daher. Eigentlich will ich das Outro gar nicht hören, denn das würde heißen, dass Love, Lost schon am Ende angelangt ist.
Auch nach dem fünften Mal hören entdeckt man noch neue Elemente in den Songs
Wahrscheinlich ist dieses rückwärts abspielen von Vocals die feine englische Art, denn ich muss schon wieder an The 1975, aber auch ein bisschen an Pablo Nouvelles erstes Album denken. Das Outro ist mir aber tatsächlich ein wenig zu kurz. Man fühlt sich irgendwie wie bei einer Achterbahnfahrt. Ewig lange gewartet, dann sitzt man endlich drin und zack, schon ist Love, Lost vorbei und der genervte Freizeitpark-Mitarbeiter hebt den fettigen Bügel an und sagt, dass du dich aus dem Sitz verpissen sollst. Dadurch kommt man etwas zu schnell wieder in der Realität an und der Effekt verfliegt ein bisschen. Doof… 🙁 
Insgesamt ist Love, Lost von Dahlia Sleeps musikalisch kristallklar produziert und hat noch wunderschöne Vocals und Texte als Topping oben drauf bekommen. Die ganze EP packt einen sofort in einen großen Watteball, aus dem man sich gar nicht rauskämpfen will. Auch nach dem fünften Mal hören entdeckt man noch Elemente in den Songs, die vorher gar nicht aufgefallen sind. Sphärisch treibender, Indie, der die goldene Mitte aus elektronischen und organischen Klängen gefunden hat. Ein voller Erfolg!
Am besten hören beim: Sexy draußen im Regen stehen, über das Leben nachdenken
Favourite Song: Intro, Storm, Love, Lost 
Least Favourite song: Settle Down
Übrigens gibt es nächste Woche noch einen Interview-Artikel mit Dahlia Sleeps zur neuen EP! #staytuned
Hier kannst du dir außerdem noch das offizielle Musikvideo zu Settle Down anschauen