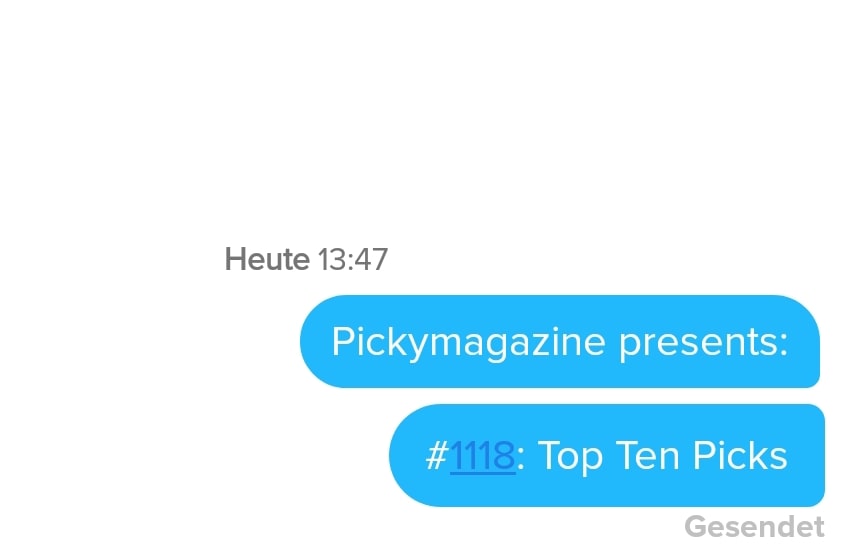 So liebe Picky-Leser, es ist wieder soweit! Der November verabschiedet sich mit eisiger Umarmung und ich habe mal wieder meine Top Ten Picks dabei, um dir Feuer unterm Hintern zu machen! Dieses Mal spüre ich eine leichte Neigung in Richtung Psychedelic und Neo-Soul! Außerdem präsentiere ich dir Künstler, an dessen Album-Reviews ich gerade schreibe und die sehr wahrscheinlich im Dezember erscheinen werden. Also kannst du die Top Ten Picks dieses Mal auch als eine Art kleinen Spoiler verstehen! 😉 Nun denn, viel Spaß beim Lesen und denk dran, du kannst den Artikel jetzt auch bewerten! Einfach unten auf die Sterne klicken! 
10. Raveena – Sweet Time
Raveena wurde mir zufällig im Mix der Woche vorgeschlagen und ich war instant begeistert. Sweet Time hat extrem groovige Beats, welche von souligen Chords und starker Stimme begleitet werden. Sweet Time hat mir von ihren Songs am besten gefallen, ich finde die Gesangsmelodie hier wunderschön. Musikalisch erinnert mich Raveena etwas an Mac Ayres oder Hablot Brown. Wahrscheinlich kommt bald auch eine Review zu ihrem aktuellen Output! 🙂
9. Michael Jackson – Rock With You
Inzwischen müsste das Video jeder gesehen haben: Salif und seine Crookboyz aus Paris tanzen zu einer höher gepitchten Version dieser Nummer extrem authentische Michael Jackson Dance-Mooves. Der Dude hat es damit sogar in den Sessel von Ellen DeGeneres geschafft. Respekt dafür. Für uns Normalsterbliche bleibt nur die normale Version zum hören und abdancen. Zu Michael Jackson muss ich auch gar nicht mehr sagen oder? Top Ten Picks Nummer 9.
8. Jesse Dee – New Blades of Grass
Der Song New Blades of Grass von Ananas-Kopf Jesse Dee ist mittlerweile schon 10 Jahre alt. Allerdings juckt mich das überhaupt nicht, ganz im Gegenteil: Diese warme, soulige Nummer ist besonders zu der kalten Jahreszeit ein Ohrenwärmer. Eine einfache und schöne Ballade. #Melancholymood garantiert beim Anhören. 🙂
7. MOJOS – Keep On Moving 
Die MOJOS sind eine Indie-Band aus Berlin, die dieses Jahr ihre erste EP veröffentlicht haben. Doobie Tapes ist vier Nummern stark und hat mich auf Keep On Moving aufmerksam gemacht. Von allen Songs auf der EP, hat diese Nummer den stärksten Vibes. Hier passt alles. Musik und Gesang zeigen einheitlich in die selbe Richtung und das Solo finde ich auch ziemlich fett. Meine Top Ten Picks Nummer 7.
6. Feng Suave – Sink into the Floor
Sink into the Floor von Feng Suave ist eine eher ruhigere Alternative-Indie Nummer. Die Band hat 2017 ihr erstes Album gedroppt und seitdem nicht nachgelegt, was ich persönlich ziemlich schade finde. Leichte Yellow Days und Men I Trust Vibes, die praktisch zum relaxen und abhängen auffordern. Könnte in einer Designer-Boutique laufen, tut es wahrscheinlich auch irgendwo in einer Amsterdamer Seitenstraße. Nichts revolutionäres, ist mir aber dennoch lange genug im Gedächtnis geblieben, um meine Top Ten Picks Nummer 6 zu werden.
5. PRADA MEINHOFF – Stress
Stress ist der Opener-Song von PRADA MEINHOFFS gleichnamiger EP. Eine interessante Mischung aus Techno und Punk. Mir war vorher nicht bewusst, dass man diese Genres kombinieren kann, so wie Nutella und Käse. Das Power-Duo aus Berlin hat es aber geschafft und dabei mit simpler Genialität eine interessante EP erschaffen. Die ganze Review dazu kommt im Dezember! Mein Top Ten Picks Nummer 5!
4. Franc Moody – Night Flight
Wer mir auf Instagram folgt, kann sich wahrscheinlich noch an diesen Song erinnern. Ich hatte Night Flight vor zwei Wochen als Song der Woche präsentiert. Funkyness hoch 10. Man muss einfach dazu tanzen und den Groove genießen. Hat zeitweise ein bisschen was von Funkytown, aber wen stört das schon? Franc Moody sind auf alle Fälle eine spannende Band, der du mal eine Chance geben solltest, wenn du auf diese Art von Musik stehst! 😉
3. Pink Skies – Start. End 
Pink Skies war so ziemlich die spannendste Entdeckung diesen Monat. Der Typ hat im Alleingang ein extrem deftiges Psychedelic-Album geliefert. Im Alleingang! Start. End ist der Opener der Platte und einfach pure Magie. Müsste ich es beschreiben, würde ich sagen, irgendwas zwischen Tame Impala und den Solo-Alben von John Frusciante. Extrem spannender Künstler, der viel zu unbekannt für sein Talent ist. Auch hier ist die Review in Arbeit und erscheint bald! Verdiente Nummer 3 meiner Top Ten Picks.
2. Tiflis Transit – May
Wer sich noch an die Review von Tiflis Transits Mondaene Dysfunction erinnern kann, der weiß bestimmt, dass ich die EP extrem abgefeiert habe. Aber was gut ist, muss nun mal gelobt werden. 🙂 May ist mit der laidback-psychedelic Attitude diesen Monat auf meinem zweiten Platz der Top Ten Picks gelandet. Spannende Gesangsmelodie und mystische Atmosphäre mit undefinierbaren Einflüssen gibt es hier zu hören. Definitiv worthy mal reinzuhören/lesen.
1. Hablot Brown – Pressure
Aus welchem Paralleluniversum Hablot Brown kommen, habe ich bisher noch nicht herausfinden können. Extrem sexy, extrem stylisch kommen diese drei Jungs aus den USA daher und liefern einen Neo-Soul ab, der Tom Misch noch blasser werden lässt. Pressure war auf alle Fälle der am heftigsten gefeierte Track diesen Monat, daher mit Abstand meine Top Ten Picks Nummer 1! Die Review dazu kommt übrigens auch bald, also #staytuned.