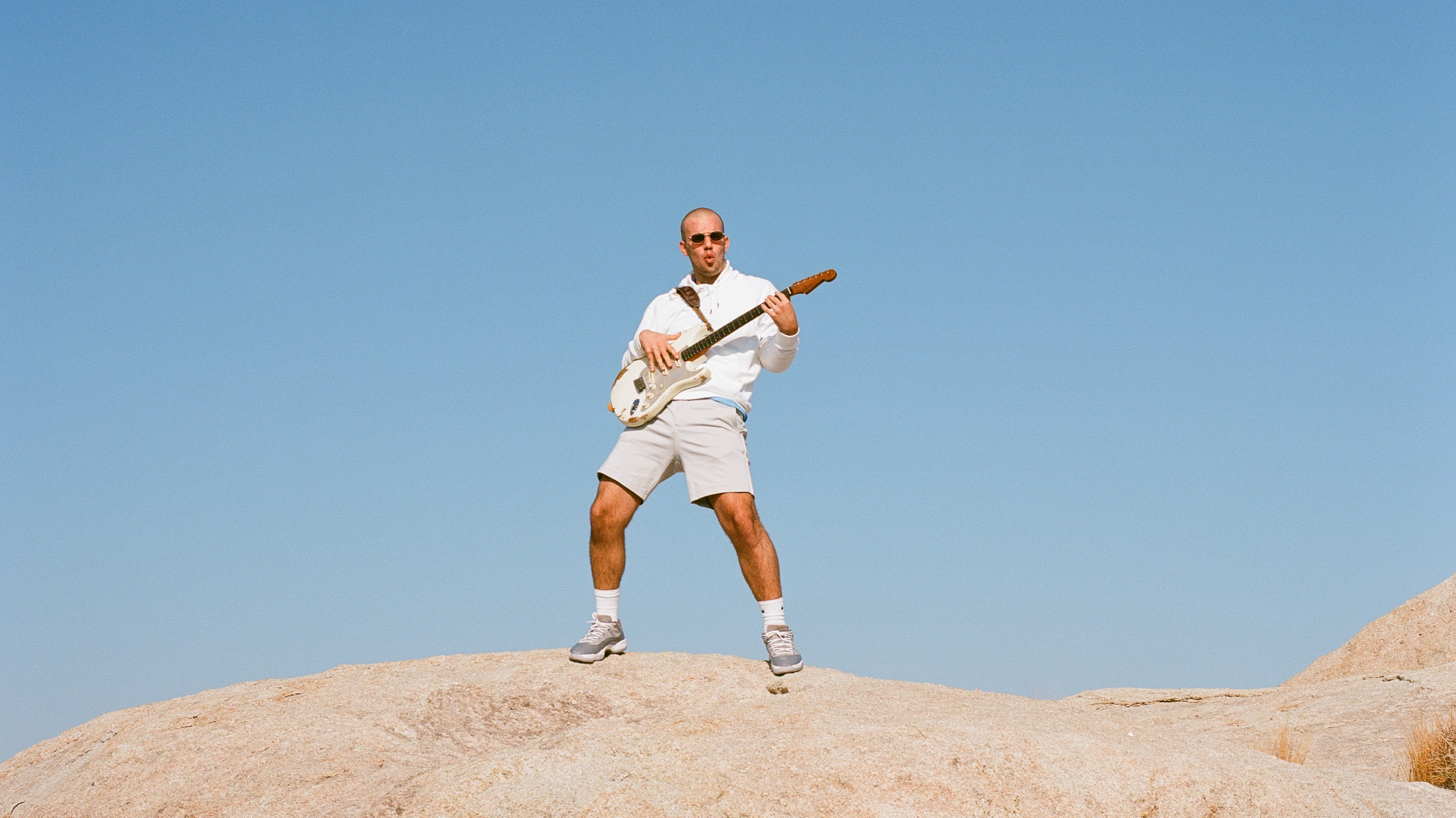 Wenn dich irgendwann mal jemand fragt, was Neo-Soul ist, solltest du einfach wortlos auf Mac Ayres verweisen. Denn der Selfmade-Producer und Multiinstrumentalist aus Long Island N.Y. ist die haarlose Personifizierung dieses extrem erotischen Musikgenres. Mac Ayres ist noch relativ jung im Game, aber sicherlich schon eine feste Größe. 2017 droppte er seine Debüt-EP Drive Slow. Dieses Jahr legte er mit Something to Feel nach und mein treuer Leser, ich sag dir, das ist etwas zum fühlen!
Das Album ist meiner Meinung nach etwas ganz besonderes, denn auf der Platte findest du 11 Tracks, die beim ersten durchhören gleich klingen, beim genaueren Hören dann aber doch jeweils eine ganz eigene Note besitzen. Das ist ziemlich interessant und einzigartig. Ich werde hier aber nur auf die besten, beziehungsweise markantesten Songs eingehen, damit sich inhaltlich nichts wiederholt. Wenn du dir das Album mal anhörst, wirst du wissen, was ich meine.
Wir beginnen den Ohrensex mit einer ausgedünnten Tech-House-Chords-Ballade. Next to You liefert dir Laid-Back-Vibes mit Vinylknistern vom Feinsten. Genauso schnell, wie der Track angefangen hat, ist er auch wieder vorbei. Der Grundstein für die Stimmung, um sich auf das Album einzulassen, ist aber definitiv jetzt schon gelegt. Mac Ayres hat bereits deinen Gürtel aufgemacht.
Als nächstes kommt der Track Roses mit einer extrem tighten Drumsection. Sowas chilliges habe ich lange nicht mehr gehört. Mac Ayres legt mit seinem lasziven Gesang noch einen (Eiswürfel auf deinen Nippel) drauf. Ich muss ein bisschen an Our First Time von Bruno Mars denken. Das Saxophon sorgt für Long Island-Vibes. Mittendrin wechselt der Rhythmus, man denkt, es ist in anderer Song, aber falsch gedacht! Auch dein T-Shirt liegt jetzt auf dem Boden. Rawr.
Wie ein Hip Hop Beat aus den 90ern klingt Under. Simple Drum Beats, einfache Bassline, jazzige Licks. Chet Faker rupft sich ein paar Barthaare aus, weil er die Grooviness nicht fassen kann. Soon ist ein kleines Snippet, man hört man ein paar Akkorde, eine staubige Voicemail, weiter geht es dann mit Get to You Again. Erinnert mich mit diesen abgehackten Synthies an Men I Trust aus Kanada. Irgendwie finde ich diese Nummer aber nicht so inspiriert, ich weiß nämlich nicht genau, wo der Song hingehen soll. Du ziehst dein T-Shirt wieder an.
Mein absolutes Highlight des Albums ist der gleichnamige Song Something to Feel, aka. Der-Dosenöffner-Song #ifyouknowwhatimean 😉 Wir haben wieder denselben Beat wie bei Roses und Mac Ayres flüstert dir irgendwas Erotisches ins Ohr.
Something to Feel ist ein Geschenk an die Menschheit
This Bag ist interessant, da er als einziger Song einen organischen Charakter hat. Man hört eine Akustik-Gitarre und vielleicht auch eine Cahon, man weiß es nicht genau. Finde ich ganz erfrischend, hätte aber ruhig ein bisschen früher kommen können. Stay erinnert mich stark an Drinkin' von JMSN oder Movie von Tom Misch. Scheint wohl zum Repertoire jedes Neo-Soul oder Funk-Künstlers zu hören. Macht den Abschluss dieser grandiosen Platte aber auf keinen Fall schlechter! Gesanglich bin ich bei Stay echt überzeugt. Mal hoch, mal tief. Dieses leicht verschnupfte in der Stimme was man von Tom Misch kennt fehlt noch. Sonst hätte die Nummer auch einfach von ihm sein können.
Something to Feel ist definitiv ein Geschenk an die Menschheit. Ich wüsste gerne, wie viele Kinder zu Mac Ayres Musik gezeugt wurden. Obwohl beim Durchhören wenige Songs wirklich durch Einzigartigkeit herausstechen, merkt man doch beim fokussierten herauspicken einzelner Songs, dass jeder für sich steht. Ich habe nur ein bisschen Angst, dass Mac Ayres genau so schnell verschwindet, wie er aufgetaucht ist. Oder das sein zweites Album schwach wird, wie beispielsweise bei den Mighty Oaks.
Außerdem könnte ich mir ein Feature mit Tom Misch, JMSN oder Anderson .Paak sehr gut vorstellen. Auch mit Bruno Mars könnte ich mir eine Nummer vorstellen, denn musikalisch und gesanglich habe ich dann doch viele Ähnlichkeiten gehört.
Am besten hören beim: Liebe machen, Eiswürfel auf Nippel legen, 420
Favorite Track: Something to Feel, Roses, Stay
Least Favorite Track: Get to You Again
Noch mehr pornöse Beats findest du auf Mac Ayres Spotify-Profil. Aber denk dran, immer schön die Gummis auf deine In-Ears zu stecken 😉
P.S.: Du kannst dir deine Hose wieder anziehen.