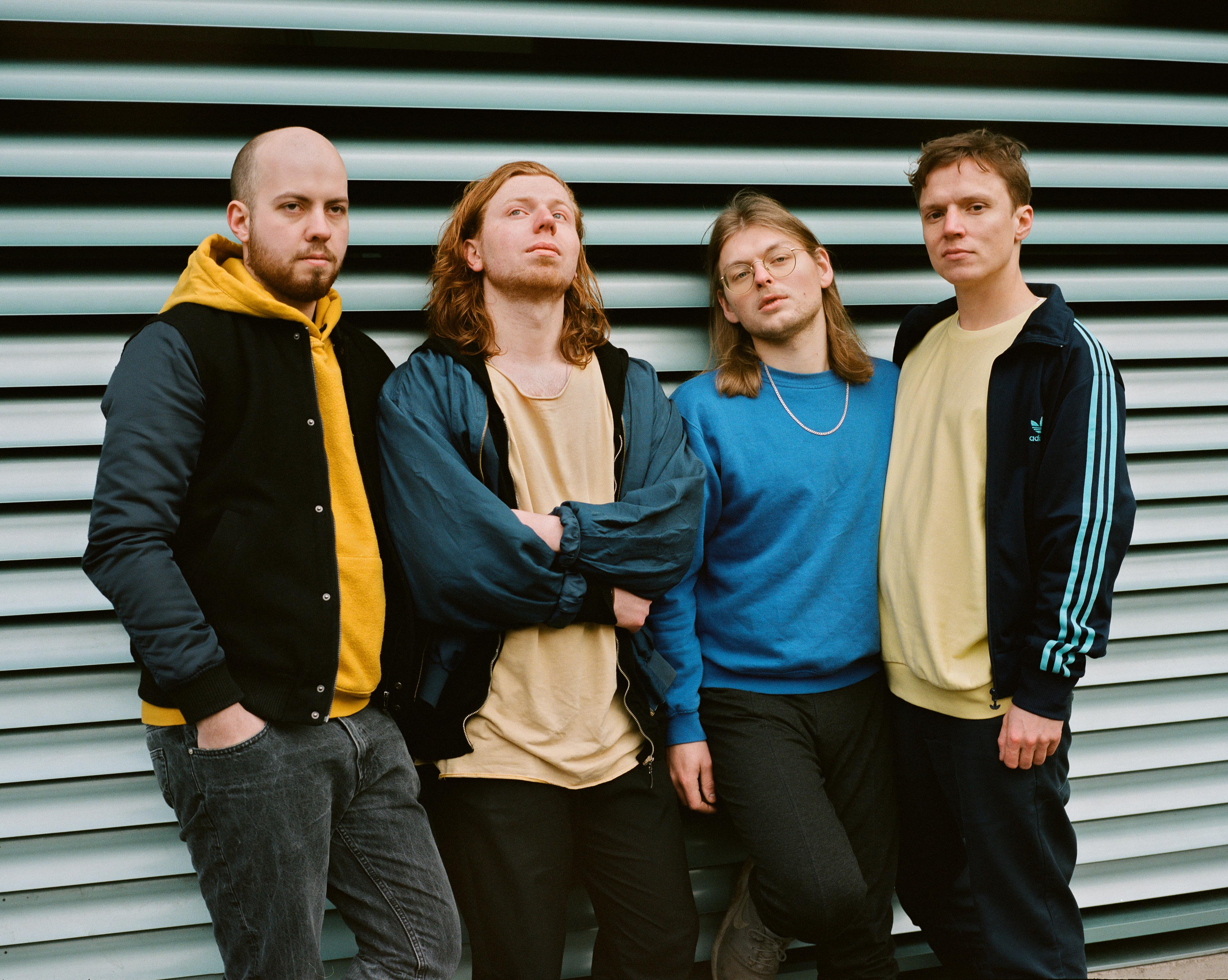 Sultans Court aus Berlin haben mit ihrer Single Haunted thematisch den Zeitgeist getroffen. Ich traf den Sänger Julius und Gitarristen Konstantin im Interview und sprach mit ihnen über Toxic Masculinity, Feminismus, zukünftige Projekte und wer in der Band die Hosen an hat 😉
Sultans Court im Interview:
Tim: Hallo, ihr seid Sultans Court richtig? Woher kommt euer Name und warum seid ihr nicht die Sultans of Swing?
Konstantin: Wir haben uns in der Anfangszeit viel von Schallplatten inspirieren lassen, die ich auf dem Flohmarkt gefunden habe. Darunter war eine Platte, auf der antike türkische Musik war mit spannenden Sounds. Ein Track auf der Platte hieß "Arabic Music from the Sultan's Court". Das blieb irgendwie hängen. Der Rest ist Geschichte.
Tim: Für alle, die es immer noch nicht gecheckt haben, vielleicht fasst ihr nochmal kurz und knackig eure Band-Geschichte zusammen? 😉
Julius: Ich wollte damals von Berlin aus auf das MS Dockville Festival fahren und Konstantin hatte auf Facebook eine Mitfahrgelegenheit angeboten. Es war sozusagen Liebe auf den ersten Kilometer. Wir haben sehr schnell gemerkt, dass wir einen sehr ähnlichen Musikgeschmack haben und uns während der Autofahrt gegenseitig viel altbekannte und neue Musik gezeigt. Kurzum wurde entschieden, die Camps unserer Freunde zusammenzuschließen und wir sind zusammen von Act zu Act getigert. Spätestens da war uns klar: wir müssen eine Band gründen.
Tim: Bisher habt ihr schon zwei Singles draußen. Haunted fand ich persönlich ziemlich nice und hab auch etwas darüber geschrieben. Wie sind die anderen Resonanzen gewesen? Fans, andere Blogs, eure Eltern?
Konstantin: Größten Dank! Erstmal fühlt es sich an, als wenn ein Stein vom Herzen gefallen ist, da wir nun endlich Musik draußen haben, die wir den Leute zeigen können. Umso schöner ist es dann, wenn die Resonanzen auch noch extrem positiv ausfallen. Mehrere Blogs sind auf uns zugekommen und wir laufen schon bei ziemlich vielen Radiosendern. Radioeins hat uns als das "nächste große Ding aus Berlin" betitelt. Als total unbekannter Künstler bei einem Indie-Label haben wir das natürlich nicht erwartet. Es freut uns auch sehr, dass wir nun unseren Freunden die uns seit einigen Jahren unterstützen und zu jedem Konzert kommen endlich was zurückgeben können, da sie die Musik jetzt überall hören können.
Julius: Eine Freundin hat zum Beispiel erzählt, dass sie beide Songs in ihre Sexplaylist aufgenommen hat. Dass jemand unsere Musik für so intime Momente in Erwägung zieht schmeichelt uns sehr. Wenn man so intensiv an Musik schreibt, gibt es auch mal sehr schwierige Momente, solche kleinen Geschichten geben uns dann den Rückenwind um noch mehr Songs zu schreiben.
Tim: Auf Haunted geht es ja um das Thema Toxic Masculinity. Vor allem in den heutigen Zeiten besonders in Bezug zum Feminismus ist das Thema ja relativ heikel. Erstmal Respekt dafür, so offen mit dem Thema umzugehen. Doch was mich jetzt interessiert, ist die Frage, wie für euch gesundes männliches denn Verhalten aussieht?
Julius: Es gibt sicherlich nicht DIE eine Art, wie man "richtig" lebt, ich glaube aber, dass offen über seine Gefühle zu reden und keine Angst davor zu haben sich auch mal verletzlich zu zeigen eine gesündere Art ist damit umzugehen als diese Gefühle von vorneherein gar nicht erst zuzulassen. Viele Männer werden auch in ein sehr kompetetives und unnachsichtiges Rollenbild hineingezwängt, wo es ohne positive Gegenbeispiele schwer sein kann da raus zu kommen oder sich überhaupt bewusst zu werden, dass dieses Verhalten ganz schön auf die Psyche drücken kann. Das heißt nicht, dass männlich sein generell etwas schlechtes ist.
Konstantin: Viele Menschen sollten einfach mehr den gesunden Menschenverstand nutzen. "Nein" heißt "Nein" und dass man eine Frau nicht bedrängt oder belästigt sollte eigentlich auch jedem klar sein.
Tim: Und noch eine Frage zum Thema: Wie steht ihr zu Themen wie Frauenquoten, zum Beispiel auf Festivals? Berechtigt oder unnötig?
Julius: Die Quote ist dringend nötig, denn die Unterbesetzung an Frauen in Line-Ups und führenden Positionen der Musikindustrie sind auf strukturelle Benachteiligung zurückzuführen. Es gibt, glaube ich, ein schiefes Gesellschaftsbild, welches Frauen keine oder zumindest weniger Kompetenz zutraut als ihren männlichen Kollegen. Und wenn es dir lange genug eingeredet wird, glaubst du es irgendwann leider selbst. Die großen Institutionen haben die Aufgabe dort gegenzusteuern.
Konstantin: Der Idealfall sähe für mich aber so aus, dass wir diese Diskussion nicht führen müssen und die Acts nur nach der Qualität ausgesucht werden. Da Männer und Frauen (nach biologischem Geschlecht) ja jeweils ca. 50 Prozent der Gesellschaft ausmachen, müsste sich dieses Verhältnis dann natürlich auch in einem Line-Up wiederspiegeln. Daran, dass ein Geschlecht bessere Musik macht als das andere glaube ich nicht.
Tim: Wollt ihr als Band überhaupt die politische Komponente mit ins Boot holen, oder wollt ihr einfach nur Musik machen und als Künstler wahrgenommen werden?
Julius: Die Musik stand schon immer für uns im Vordergrund. Wir schreiben über Themen, die uns interessieren und berühren, da kann es dann auch schonmal um Politik gehen. Andererseits können das natürlich auch völlig banale Sachen sein. Ich denke, dass diese beiden Dinge heutzutage eh schwer zu trennen sind, denn sie begegnen einem mittlerweile ständig im Alltag. Ich glaube, dass sich z.B. durch den europaweiten Rechtsruck große Teile unserer Generation wieder mehr politisch engagieren.
Konstantin: Musik ist bei uns auf jeden Fall die Hauptinspirationsquelle. Alle unsere Demos haben erstmal eine Gesangsmelodie aus Wortfetzen bevor wir uns Texte ausdenken. In der Regel geben uns dann einzelne Fragmente zusammen mit der Musik die Richtung vor, in die es gehen soll.
Tim: Und nun nochmal zurück zu Sultans Court: Wer hat bei euch in der Band die Hosen an?
Konstantin: Wir halten das in der Band stets basisdemokratisch. Wir vier ergänzen uns super und jeder hat seine eigenen Stärken, die er in das Projekt einbringen kann. Weiterhin schätze ich die reflektiere Diskussionskultur, die untereinander herrscht und sehr produktiv ist.
Julius: Wir sind alle immer sehr gespannt, was alle anderen zu einer Idee denken. Wir haben einen Bandchat in dem ständig spannender Input herumgeschickt wird.
Tim: Wie sieht es in Zukunft bei euch aus? Neue Songs, eine Tour, oder werdet ihr Pick-Up-Artists?
Konstantin: in Schokoriegel von einer bekannten Keksmarke ist auch mal bei einer Songwriting Session als Gehirnnahrung dabei, daher sind wir wohl schon längst "Pick-Up Artists". 😉
Julius: Gerade planen wir noch das Musikvideo zu unserem anderen Song No Man's Land, der auch schon veröffentlicht ist. Ansonsten steht für Juli die nächste Single in den Startlöchern und im Spätsommer kommt dann die EP. Außerdem sind Support Shows für den Herbst in Planung und zwischendrin spielen wir immer wieder Shows und auf Festivals. Nebenbei haben wir schon angefangen für ein Album zu schreiben, welches nächstes Jahr veröffentlicht werden soll.
Tim: Zum Abschluss nochmal eure Botschaft an die Fans:
Julius & Konstantin: Skrrrr. (Zu Deutsch: "Danke an alle vor und hinter den Kulissen, ohne euch könnten wir das alles nicht auf die Beine stellen und Grüße gehen raus an die Sultans Court Gang.")