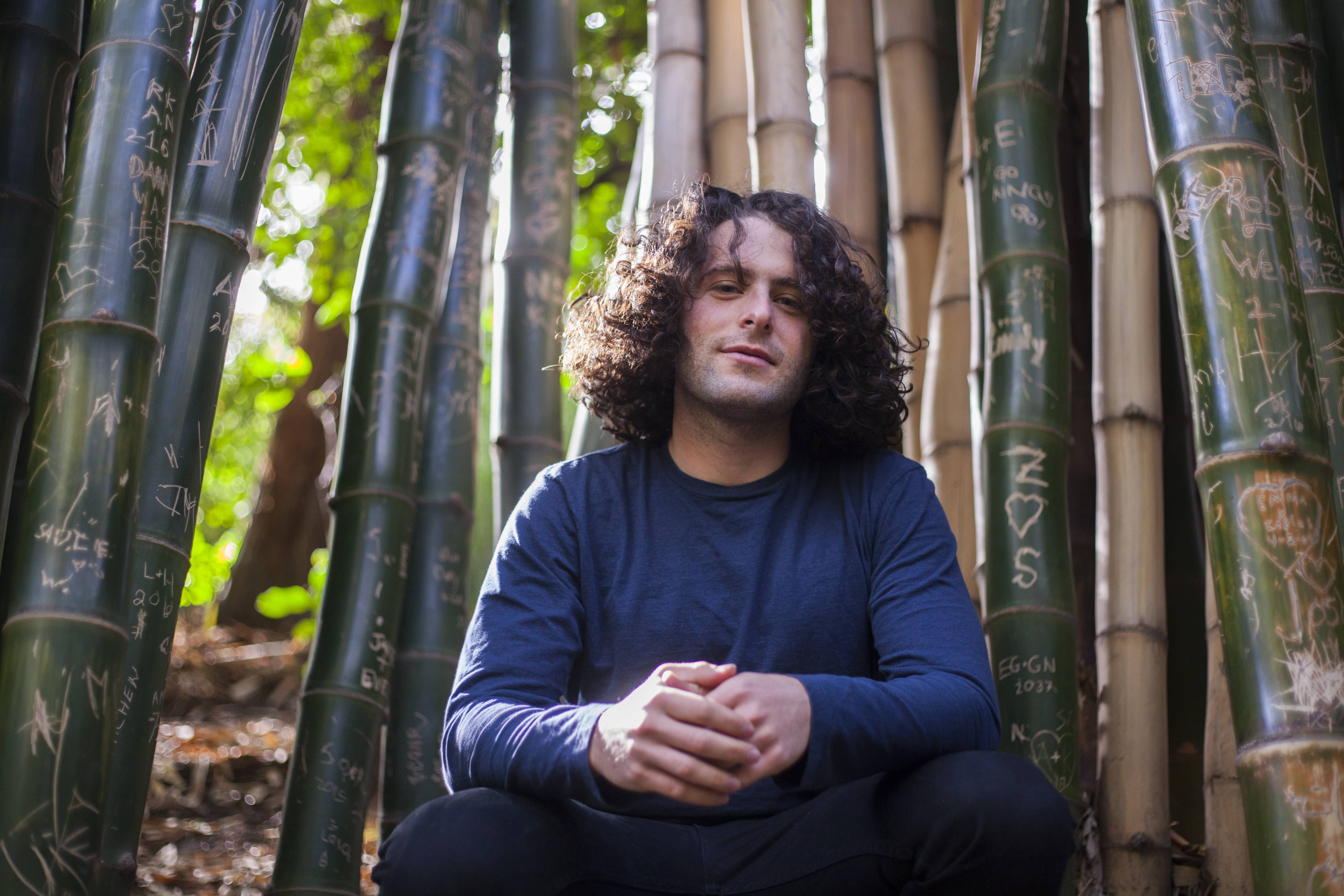 Nicht Pink Floyd, nicht der Pink Panther, nicht Lady Marmelade, sondern Pink Skies? Hä, wer? Na der Dude aus den USA, der im Alleingang ein extrem psychedelisches Album geliefert hat. Does It Really Matter? ist das Debüt-Album von Arieh Berls Solo-Projekt Pink Skies und meiner Meinung nach eines der stärksten Debut-Alben, die ich jemals gehört habe! Das Album mit dem Titel eines buddhistischen Mindsets liefert sieben extrem starke Songs, die sich im Kontinuum von Dream Pop, Slacker und heftigem Psychedelic bewegen. Musikalisch vergleichbar mit Alvvays, The Fur Coats und natürlich Tame Impala.
Auf den Opener der Platte war ich überhaupt nicht vorbereitet, deswegen hat er mich richtig umgehauen, wie alte Leute im Bus, wenn er anfährt. Um dieses Album möglichst gut zu beschreiben, würde ich dich gerne mitnehmen auf eine kleine Reise durch die bunte Psychedelic-Welt von Pink Skies. Normalerweise würde man jetzt erwarten, dass man die Augen zumachen soll, aber dann könntest du den Text ja nicht mehr lesen, also steck dir einfach Kopfhörer rein, mach das Album (Link unten) an und lies für jeden Song den passenden Abschnitt mit. 🙂 Let's go!
Does It Really Matter? ist eines der stärksten Debut-Alben, die ich jemals gehört habe
Start. End wirft mich sofort in die bunte, wabernde psychedelische Welt von Pink Skies. Ich weiß nicht, wem es noch so geht, aber ich feier diese fuzzy Bassline extrem hart. Sanfte Synths, die von deftigen Drums in ihrer Gravitation gestört werden. Irgendwo im Hintergrund wandert die Bassline durch die Landschaft. Die Strophe ist schön entladen, man hört den Gesang zum ersten Mal klar heraus. Im Chorus gibt es wieder das ganze Panorama. Maximale Reizüberflutung. Das Ende finde ich sehr interessant, denn erst wird der Song leiser, dann wieder lauter und dann ist erst Schluss. Extrem überzeugender Anfang!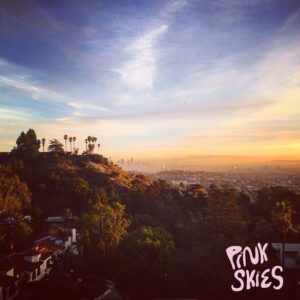 Ich fliege weiter und stoße auf Passing Me By. Sehr markante Gesangsmelodie und nach kurzer Zeit bohrt sich wieder unser altbekannter fuzzy Bass durch den Song. Auffällig ist, dass Passing Me By deutlich weniger monumental rüberkommt als Start. End und den Fokus eher auf den Gesang und kleine Details legt. Ziemlich schlau gemacht, denn nach Start. End braucht mein Brain erstmal eine Pause. Richtig reduziert wird der Song ab 2:41. Bis zum einsetzen der schnellen Hi-Hats ab 3:14 kann ich kurz einmal durchatmen und mich auf das große Finale vorbereiten. Verabschiedet werde ich von einem mehr oder weniger instrumentellen Teil, der den Rest des Songs schön einrahmt. Fade Out, Ich fliege mit The Big Lebowski durch die Weiten des Weltalls…
…Und treffe dort auf das gefilterte Drumset von Pink Skies. Wir fliegen nun zu dritt durchs Universum und treffen ganz schnell unsere altbekannten Freunde wieder. Just To Get By klingt so, als hätte sich Mac DeMarco eine Pappe zwischen die Zähne geklemmt und würde nun mit uns durchs Universum fliegen. Just To Get By könnte locker in einer schicken Boutique laufen, oder der Soundtrack für irgendein High-Fashion-Editorial in Slow-Mo-Aufnahmen sein. Noch ein Songtitel der mit By endet. Dieser hat allerdings deutlich mehr Drive und Lust, nach vorne zu gehen, also lasse ich mich einfach mal mitziehen. Wir landen in einem Vocal-Outro-Loop und sind so im Strudel gefangen, dass wir gar nicht merken, dass wir direkt auf ein schwarzes Loch zufliegen. Doch zu spät, der Song endet abrupt und wir sehen nur noch schwarz.
Zuerst denke ich, dass die Reise zu Ende ist, doch dann sehe ich ein paar bunte Akkorde durchs das Nichts wabern und aus dem schwarz bildet sich das bunte Rhythmus-Geflecht, welches mich auffängt und mir einen Boden zum laufen gibt. Reflections erinnert mich stark an den Solo-Stuff von ehemaligem Red Hot Chili Peppers Gitarristen John Frusciante. Im Vergleich zu Start. End ein relativ simpler Song ohne viel Tamtam. Sind ja hier nicht bei Germanys Next Topmodel. Tatsächlich ist mir Reflections bisher am sympathischsten. Vielleicht sollte ich das Projekt hier in Simply Magazine umbenennen und ich bin Simply Tim. Does It Really Matter? 😉 Ziemlich frech finde ich hier das Synthie-Solo am Ende des Songs. Schönes Teil, wie der Arsch von JLO.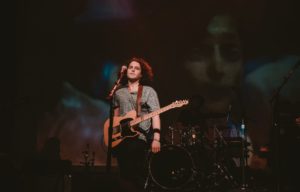 Grizzly Peak kommt genau zur richtigen Zeit, denn es kommt bereits Rauch aus meinen Ohren. Eine kleine Oase, irgendwo im Nirgendwo. Keine Drums, kein Gesang, einfach nur Gitarrenakkorde. Wer jetzt immer noch nicht überzeugt ist, der braucht sich den Rest auch nicht mehr anzuhören, denn noch besser wird es nicht. Grizzly Peak eignet sich perfekt für die frühen Morgenstunden, wenn die Sonne aufgeht und die Welt erwacht. Winzige Anmerkung an der Stelle: Ich hätte es ganz cool gefunden, wenn Grizzly Peak nahtlos in den nächsten Song Gettin' Old übergeht, denn das hätte echt gut gepasst. Aber gut, man kann ja nicht alles haben. Habt ihr das gehört, liebe Kapitalisten?
Warum sind Songs die vom älter werden handeln eigentlich immer so melodramatisch? Kann man nicht auch einen Song über die Vergänglichkeit schreiben, der einen nicht runterzieht? Gettin' Old finde ich ziemlich hip-to-the-hop-ig, weshalb ich eher semi begeistert bin. Im Vergleich zu den anderen Songs mit teilweise extremen Panoramen und Bildgewalt, kommt diese Nummer eher smooth daher, wie Michael Jackson (war absehbar der Gag, oder? ;-)). Nach dem kurzen Xylophon-Teil oder was auch immer das ist (hab im Musikunterricht nicht aufgepasst) bin ich allerdings wieder back on track, der kam nämlich ziemlich unerwartet. Danach wirds wieder gewohnt psychedelic, aber mein Fave wird Gettin' Old trotzdem nicht mehr.
Pink Skies Musik klingt harmonisch, aber trotzdem nicht langweilig
Last but not least, heben wir noch einmal Hand in Hand ab in die Pink Skies. I Don't Wanna See You Cry hat echt cremige Synthies am Start. Erinnert mich ein wenig an Electro-Pop à la Electric Youth. Sehr ruhige Nummer, stimmiger Abschied. Wenn man sich mal den Anfang und das Ende im Vergleich anhört, hat Start. End ordentlich auf die Kacke gehauen, während I Don't Wanna See You Cry eher melodisch-melancholisch und schweigend den Mantel im Flur anziehend rüberkommt. Die Reise ist zwar zu Ende, doch ich bin nicht traurig. Im Gegenteil, ich gehe eher selig glücklich und mit blutenden Ohren nach Hause.
Does It Really Matter? ist das Debüt-Album von Pink Skies und definitiv eine Ansagt. Diesen Künstler muss man im Auge behalten! Sieben extrem starke Stücke, die mich bis auf eine Ausnahme, zu 100% überzeugt haben. Perfekt ausbalancierte Musik, die harmonisch, aber trotzdem nicht langweilig klingt und daher zum fliegen einlädt. Dass ich Musik als gut bewerte, wenn sie Bilder erzeugt, weißt du vielleicht schon, aber bei diesem Album hatte ich ein wahres Farbfeuerwerk vor Augen. Selten so wenig erwartet und so viel bekommen!
Ich hoffe für Arieh Berl, dass er möglichst schnell eine Band zusammen kriegt und auf Tour geht, weil diese Musik definitiv laut gehört werden muss. Bisher gibt es leider keine Vinyls zu kaufen, da Pink Skies noch nicht groß genug ist. Doch was nicht ist, kann ja noch werden! Solange musst du dir Pink Skies über den Stream anhören:
Am besten hören beim: Die Sonne aufgehen lassen, Durch das Universum fliegen
Favorite Song: Start. End, Reflections
Least Favorite Song: Gettin' Old
Außerdem kannst du dir hier noch das Musikvideo zu Just To Get By anschauen! Gönn dir: