Vor einiger Zeit hatte ich bereits angekündigt, dass Long Tall Jefferson bald sein zweites Album genannt Lucky Guy veröffentlichen wird. In dem Artikel hatte ich auch bereits meine Meinung zu den bisher veröffentlichen Singles Yonder is A Mountain, Over for Tea und Stay a Little Longer abgegeben. Deswegen werde ich bis auf eine Ausnahme auch nicht weiter auf diese Songs eingehen, sondern direkt beim dritten Song The Unmasked Joker ansetzen.
The Unmasked Joker klingt interessant, denn er erzeugt eine melancholische gute Laune Stimmung. Das klingt jetzt erstmal widersprüchlich, ist aber der beste Weg zu beschreiben, wie ich mich beim hören gefühlt habe. Ich wusste nicht, ob ich jetzt traurig oder fröhlich sein sollte, die Richtung ändert sich teilweise in einem Abschnitt des Songs mehrmals. Praktisch der Harvey Dent auf dem Album. Textlich hat mich der Gesang und die Lyrik (uhh Fachsprache) erneut an Soko erinnert. Insgesamt fühlt sich der Song wie ein Flugzeug an, welches versucht abzuheben, aber noch nicht schnell genug ist, weshalb die Reifen ständig auf den Boden ditschen. Das Mundharmonika-Solo finde ich passend, gibt aber letzten Endes auch nicht genügend Drive, um noch was zu reißen.
Als nächstes kommt das Herzstück des gleichnamigen Albums: Lucky Guy,  eine klavierlastige Ballade, die mich anfangs ein bisschen an ein Harry Styles Lied erinnert hat. Ich finde den Text gut. Im Chorus höre ich die typische Long Tall Jefferson Melodienführung und Akkordfolge. Spannend: Wenn er sagt, I'm A Lucky Guy, kauft man ihm das nicht so richtig ab. Freut er sich wirklich, oder sagt er es ironisch?
Die Nummer fünf auf dem Album begrüßt mich wieder mit programmierten Drums und einem stabilen Percussion-Gerüst. Sobald die Gitarren einsetzen, hab ich irgendwie ein Mac DeMarco Feeling. Good Dreamer hat eine ruhige Strophe und einen schönen Chorus. Ob ich den brüchigen Gesang gut oder schlecht finden soll, weiß ich noch nicht. Die Trompeten erinnern auf alle Fälle an die Zeiten von I Want My Honey Back. Das Solo ab 2:28 finde ich fantasielos: Klingt irgendwie so, als hätte der Praktikant heimlich was eingespielt und keinem ist was besseres eingefallen, also ist man einfach dabei geblieben. Wie bei der Storyline von Prometheus.  Verschenkte Chance. Den Teil danach finde ich wiederum schön. Fast so schön wie den nächste Track: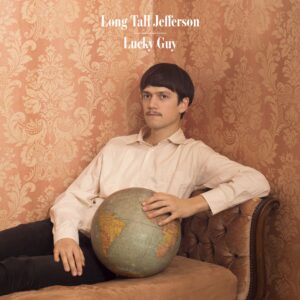 You & The Universe gibt mir direkt Simon & Garfunkel-Vibes. Erneut richtig melancholische Stimmung, so wie bei Old Friend. Ein Ziehen in der Magengegend. Man ist alleine, aber deswegen nicht unglücklich. Denn man weiß, es geht trotzdem irgendwie weiter. Das ist das, was Long Tall Jefferson meiner Meinung nach am besten kann: Einfache Songs, auf einer Akustik-Gitarre mit den Fingen gezupft, dazu seine traurig lächelnden Vocals. Der Song endet mit einem Happy-Dreiklang. Ich war für 3:37 Hauptdarsteller in einem grainy Vintagefilm ohne konkrete Handlung. Einfach nur Shots die eine Lovestory andeuten. Am Ende bin ich dann aber doch wieder in dieser trägen Realität. Kein Grain, kein Vintage, keine Lovestory. Mist.
Doch die Reise ist noch nicht zu Ende, denn jetzt kommen wir zu eingangs erwähnter Ausnahme. Over for Tea. Obwohl ich ja eigentlich schon eine Meinung zu dem Song hatte, muss ich mich korrigieren: Im ganzen Album gehört, passt Over for Tea nämlich perfekt nach You & The Universe. Ein richtiger Song für den Herbst. Obwohl ich im Bett liege, weht ein kalter Herbstwind um meine Ohren und ich muss an etwas trauriges denken. Nichts konkretes, nur die Gewissheit, dass wir am Ende sowieso alle draufgehen. Schon interessant, wie die Einbettung eines Songs in andere Umgebung meine ganze Wahrnehmung von ihm ändern kann. Ich mache das Fenster zu.
Broken Spare Parts klingt wie ein Song, den man auf einer Platte entdeckt, die man auf dem Flohmarkt für zwei Euro gekauft hat, weil man das Cover cool fand. Ungewöhnlich, aber geil. Obwohl man nur akustische Instrumente hört, würde ich den Song als rockig bezeichnen. Er erzeugt eine Aufbruch-Stimmung. Wilder Westen. Sheriff Jefferson wirft die Zigarette auf den Boden, setzt sich seinen Hut auf und knallt den verrückten Jenkins ab. Dann setzt er sich auf sein Pferd und reitet in den Sonnenuntergang. Die Simon & Garfunkel-Vibes sind natürlich auch wieder am Start und ballern ebenfalls auf Jenkins. Bisher der Song auf der Platte, der am meisten Resonanz bei mir erzeugt und mich wachschüttelt.
Fireworks greift diese Aufbruchstimmung auf und gibt ihr einen kleinen Dämpfer! Bei Lucky Guy sang Long Tall Jefferson noch:
Everybodys out and having fun / Up here 'round I'm the only one
Mittlerweile sind wir bei:
Its friday night, everyones going out, the whole city is full of sound
Was will er nur von diesem Everybody und Everyone? Der Song hat einen schönen Text, das Mundharmonika-Solo hier hat viel mehr Energie als auf The Unmasked Joker. Diese wabbeligen Synthies im Chorus im Hintergrund mag ich auch. Fireworks hat ein bisschen was von einem Song, den man auf einem Sommerfest hört und kurz stehen bleibt um ihm zuzuhören. Müsste man sich für einen Reality Check mal live anhören.
Self-Fulfilling Prophecy Blues hat mich instant an Bad Day vom ersten Album erinnert. Dieser Rhythmus und die Art, die Akkorde anzuschlagen ist exakt gleich. Nur die Akkorde sind anders. Genau darauf habe ich gewartet! Die Mundharmonika ist wieder da, diesmal sehr fragil und einfühlsam, vielleicht von Bob Dylan selbst eingespielt? Wenn er bei 3:02 Babe sagt, klingt das sogar genau wie bei Bob Dylan, Dont Think Twice Its Alright (bei 0:11). Die Idee am Ende mit dem Fade Out fand ich witzig. Gibt mir als Zuhörer das Gefühl, dass Long Tall Jefferson weiß, dass ich da bin und zuhöre.
Ich klinge wie ein Sommelier für Stimmungen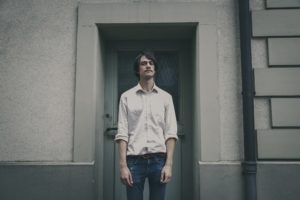 Den letzten Song jedes Albums finde ich immer besonders wichtig, weil er entscheidet, wie der Zuhörer in die reale Welt zurückgeschickt wird. Mit When the Rain Comes hat sich Long Tall Jefferson hier für einen wirklich deepen Abgang entschieden. Die gezupften Geigen geben dem Song etwas Mystisches. In der Strophe klingt When The Rain Comes ein bisschen wie Hozier, in dem Teil danach, wie AURORA.
Auch hier gibt es wieder einen Kontrast zwischen der dunklen Strophe und dem erst fröhlich ,dann melancholisch klingendem Chorus. Wie wenn die Sonne nach dem Gewitter kurz rauskommt und dann aber wieder von Wolken verdunkelt wird. Ohne auf den Text zu achten, sehe ich vor meinem Augen eine mittelalterliche Szene. Irgendjemand der es nicht verdient hat, stirbt. Die andere Person trauert. 
Insgesamt ist Lucky Guy ein eher schweres, melancholisches Album, mit wenig fröhlichen Stücken. Vom Release-Zeitpunkt passend gewählt, denn es wird langsam Herbst und damit kommt auch die wetterbedingte, eher melancholische Mood. Zumindest bei mir. Das Album beginnt mit Yonder is A Mountain, nimmt einen also mit guter Laune an die Hand  und lässt einen am Ende mit When the Rain comes alleine und im gerade beginnenden Regen an der Bushaltestelle im Nirgendwo stehen. Interessant.
Ich klinge wie ein Sommelier für Stimmungen. Für die kalten Monate empfehlen wir ein eher trauriges Album mit milden Stimmungen im Abgang. Ich kann ihnen da ein 2018er anbieten, wir hätten hier noch einen Long Tall Jefferson aus der Schweiz – Plopp.
Am besten hören beim: Alleine, aber cool damit sein, Durch Herbstlaub spazieren, Am See der Wahl nachdenklich in die Ferne gucken, generell nicht wissen wohin
Favorite Tracks: Stay a Little Longer, Good Dreamer, Over for Tea, You & The Universe und When The Rain Comes
Least Favorite Tracks: The Unmasked Joker
Das ganz Album könnt ihr euch natürlich auf seinem Spotify-Profil angucken. Ich bin mir auch ziemlich sicher, dass einer der Tracks auf meinen Septembercharts landen wird. 🙂