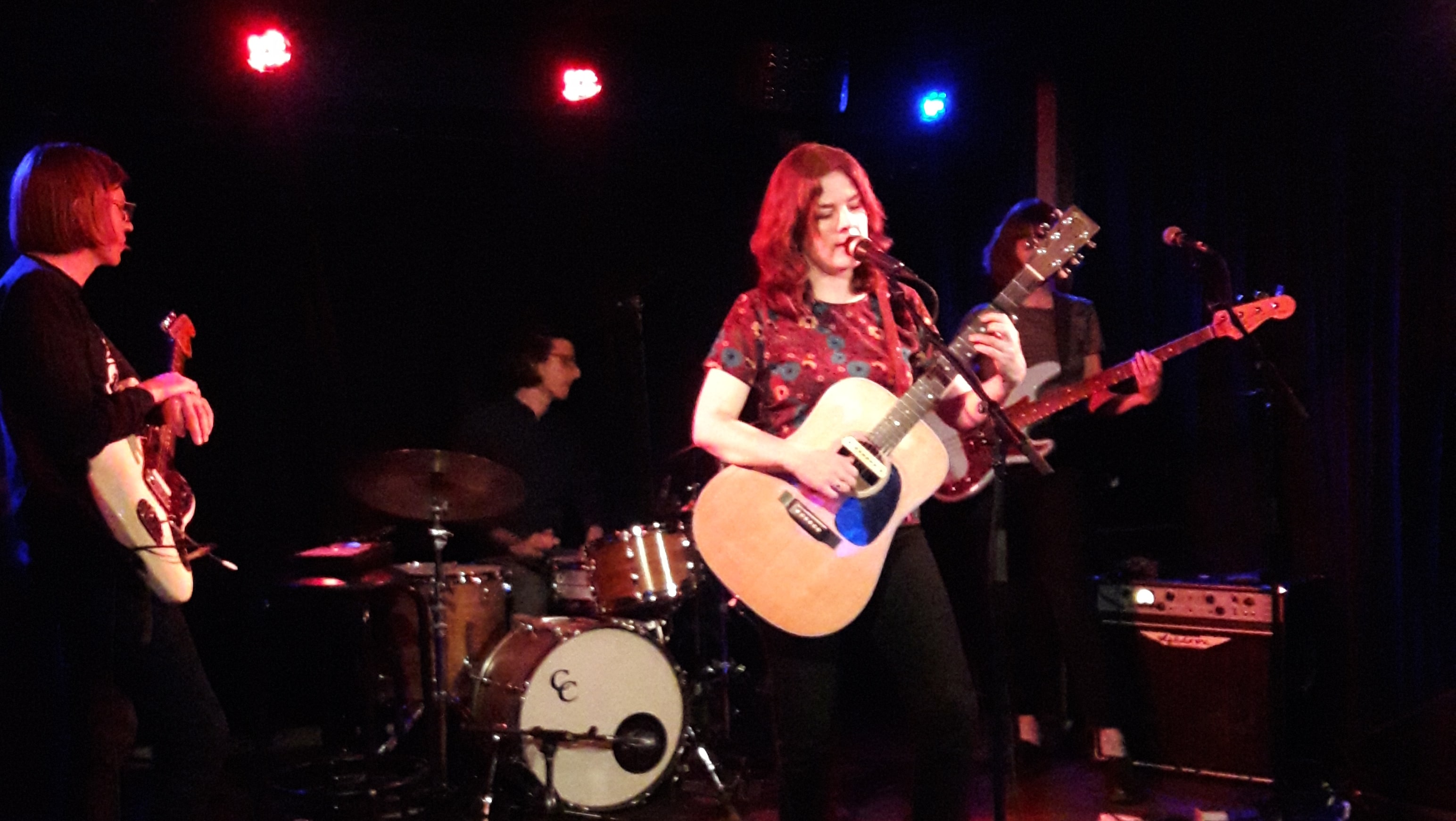 Was passiert, wenn vier introvertiert-intellektuelle Menschen in einem entschleunigten Land wie Neuseeland aufeinander treffen? Richtig, es entstehen die Tiny Ruins. Kleine Ruinen. Glitzersöckchen in Doc Martens tragende Künstler, die dich allein durch ihre optische Erscheinung unkultiviert und barbarisch fühlen lassen. Rein äußerlich konnte ich ohne Brille auch nicht wirklich erkennen, wer von diesen androgynen Wesen jetzt ein Mann und eine Frau war. Der Drummer hatte zwar einen Bart, dass muss im Jahr 2018 aber auch nichts mehr bedeuten.
Abgesehen von der optischen Konvergenz, entsteht natürlich auch Musik. Die ist zwar sehr langsam, träge, melancholisch und nachdenklich, erzeugt aber dennoch ein wärmendes Gefühl in mir. Intellektuell klingende Titel wie Birds In The Thyme, Old As The Hills oder Wandering Aengus untertreichen die bereits angedeutete künstlerhafte Sensibilität. Ich persönlich muss dabei eher daran denken, wie das Angus-Beef  in meinen Mund wandert. Jedem das seine. Burp.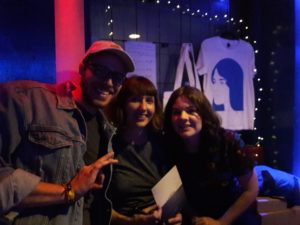 Die vier Sensibelchen spielen ohne Vorband im Blue Shell, einem kleinen Club mit amerikanischem Charme. Der Boden ist schwarz-weiß gekachelt und es gibt diese Diner-Barhocker. Amerikanisches Flair, ist doch klar. Tiny Ruins kommen also einfach auf die Bühne und spielen ihren ersten Song. Pragmatisch. Mit dem Charisma einer Bibliothekarin bedankte sich die Sängerin Hollie für den Applaus und kündigt nachdenklich ihren nächsten Song an. Augenkontakt prinzipiell nicht vorhanden. Vorher nimmt sie noch einen Schluck Rotwein aus ihrem Glas. Irgendwie finde ich das etwas aufgesetzt. Ihr seid die introvertierten, hochsensiblen Künstler, wir haben's kapiert. Oder zumindest hab ich's kapiert, der talkative Mid-40er neben mir mit roten Bäckchen der einen Dialog mit der Band beginnen wollte, glaube ich noch nicht so ganz.
Dann wird der nächste Song angestimmt und ich schließe die Augen ohne high zu sein, bei der Art von Musik ist durchaus angebracht. Ich merke jedoch schon nach kurzer Zeit, dass meine Gedanken nicht ganz bei der Musik sind, sie schweifen ab. Ich beginne wieder, an mein Angus-Steak zu denken und öffne die Augen. Der Song klingt irgendwie wie der davor, und der davor. Ein bisschen Langeweile stellt sich ein. Dann wieder Applaus. Stille. Der nächste Song handelt von einem Roller-Unfall unserer charmanten Hollie. Hätte sie das jetzt nicht erwähnt, wäre mir das natürlich niemals aufgefallen. Sie nuschelt irgendwas von einem Darth Vader-Helm. Ich verstehe den Zusammenhang nicht, aber das open-voicing der Akkorde gefällt mir trotzdem. Ich frage mich kurz, wie es klingen würde, wenn sie über die Erstürmung der Bastille singen würde. Doch da geht es schon (nicht heiter) weiter.
Als der Drummer dann einen Drumstick in den Mund nimmt und die Bassistin einen Fuß anhebt, denke ich, jetzt kommt der Höhepunkt! Doch da habe ich mich zu früh gefreut: Sie spielen einfach gefühlt den selben Song nochmal – nur dieses Mal mit Shakern. Der Trick schockt mich dann auch nicht mehr. Ich verlagere mein Gewicht vom rechten auf das linke Bein.
Tiny Ruins und das Drop D-Tuning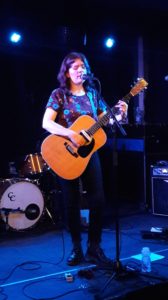 Insgesamt war das Konzert sehr ruhig und tatsächlich auch ein bisschen einschläfernd. Ersteres war mir natürlich klar, aber über ein bisschen mehr durch-den-Abend-führen seitens der Band hätte ich mich gefreut. Irgendwie war zwischen den Songs immer so ein in der Luft hängen. Erzähl halt was, gib ein bisschen Input, begeistere uns. Weinen kann ich auch zu Hause, da bin ich dann wenigstens alleine und ungestört. Die Gute hat auch jedes Mal ewig gebraucht um ihre Gitarre in das nächste exotische Singer-Songwriter-Tuning zu stimmen. Das hat über den Abend verteilt locker zwei Songs gekostet, bis die Gitarre endlich im Drop-D-F#minor7-Tuning  war.
Dazwischen Stille und das Rauschen der Elektrogitarre. Der Gitarrist nimmt einen Schluck aus dem Weinglas und spült mit Wasser hinterher. Ich denke wieder an mein Steak. Nur weil man nachdenklich-traurige Folk-Musik macht, heißt das nicht, dass man zwischen den Liedern nicht auch lachen oder energetisch sein kann. Das Konzert war zwar ganz schön, aber auch etwas langatmig. Mir hat ein bisschen die Energie gefehlt.
Für diesen Move haben Tiny Ruins aber trotzdem meinen Respekt: Sie haben einen Song namens Dream Waves zusammen mit David Lynch produziert. Simples Name-Dropping, aber bekomm David Lynch erstmal ins Tonstudio! Die Single gab es dann später am Merch-Stand auch auf 7″ Vinyl. Die musste ich natürlich haben – Ein Autogramm von Hollie und Cass Basil, der Bassistin, habe ich mir natürlich auch gleich geben lassen. Cass Basil, das ist wirklich der Vorzeige-Name aus Neuseeland. Warum denn nicht Bass Casil? Das hätte doch besser gepasst, oder nicht? Um den Abend rund zu machen, gab es noch ein kleines Foto mit Awkward-Faktor. Nachdem wir das dann auch hinter uns gebracht hatten, bedanke ich mich kurz und gehe etwas unbefriedigt nach Hause. Musikalisch unbefriedigt. (Hihi)
Tiny Ruins sind auch auf Spotify, aber du musst ganz vorsichtig drauf klicken, sonst verstimmst du sie noch! 😉