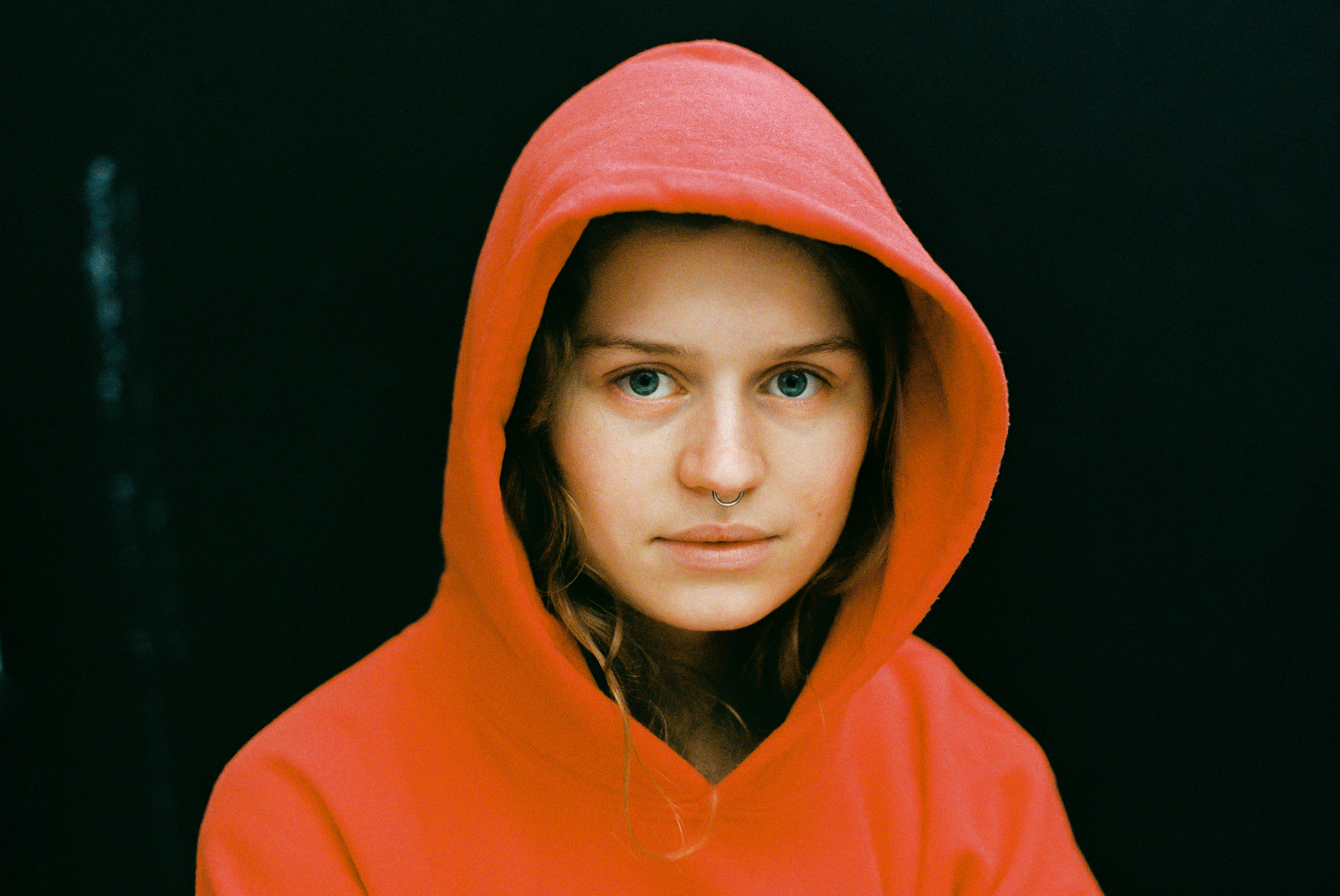 Last weekend girl in red announced out of the blue that she would perform in a small club in Kreuzberg – and that for free. The singer from Norway had released her long-awaited debut album earlier this year after starting her career from her bedroom in 2018. Largely influencing the visibility of queer people in music, she now normally fills big venues, yet here you can get an insight on a more private experience. Just so you're warned: It will be sweaty, loud and full of happiness hormones.
I must admit, I felt like on of the luckiest people alive on Sunday morning when I woke up to girl in red posting a story with details for a spontaneous concert and knowing the event location she would play at is coincidentally also my work place. The last few weeks I had happily been mixing drinks at the Privatclub in Berlin, sometimes until six in the morning, and now Marie Ulven would play on the exact stage I saw too many people drunkenly dance on. Oh boy, was I ready for being on the other side of the bar counter for once! Only around 200 guests fit into the venue, so the long queue outside came as no surprise. Probably half of Berlin's young LGBTQ+ community had gathered in the cold to get a chance to see their idol. It's interesting how integrated she is into today's popular culture as now "Do you listen to girl in red?" can be widely translated as "Are you somewhat queer?" – a question any person in that line would understand without a doubt.
Once inside, any frozen feet slowly start to warm up again, which might be due to the more cozy temperature or simply the excitement. The audience fills up the space in front of the slightly elevated stage and now it's only a matter of time until the lights will go off. When it finally happens, loud cheers erupt from everywhere as Marie hops into focus like a bouncy ball – a spirit she manages to contain for the whole show. With an energetic version of Serotonin the set begins (it's taking me a lot of self-control to not make another hormone release reference here). Followed by You Stupid Bitch and girls, the crowd has now also fully adopted the artist's level of energy. Everyone seems to not miss one lyric and know exactly which song will come next by only hearing the first note.
However the highlights of the evening are Marie's little anecdotes while she's tuning her guitar. For example, with complete casualness she rambles about her fear of getting her period on stage tonight which made her put on a pad, just in case. Now, after half an hour of jumping around, she feels more than grateful for the foresight of her past self. No uncomfortable silence follows that story, only applause – it is lovely to see how being comfortable with such topics became self-evident to younger people. One thing to criticize this generation for in this setting though might be the use of smartphones: Two fans in front of me filmed the entirety of the concert, many other cameras blocked the view throughout the night. I totally understand the desire to capture such a moment, I do that too, yet moderation is key here. And speaking from experience, how often do we actually like rewatching these blurred videos where we sing out of tune as loud as possible in the background?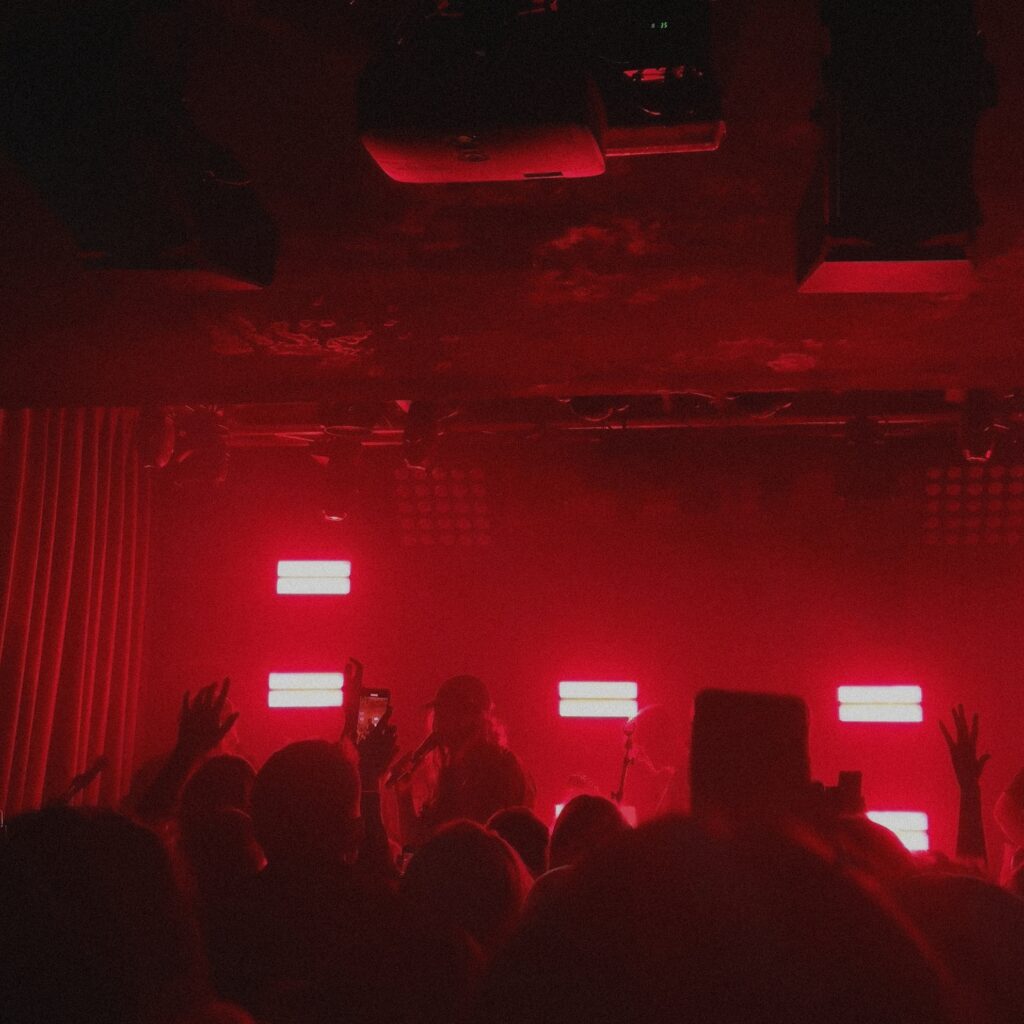 I personally am glad I do not own a recording of bad idea! playing, where we wholeheartedly tried to hit the high notes during the lines "You put your hands under my shirt; undid my bra and said these words; Darling, you're so pretty, it hurts". Of course that was no problem for Marie, who at the same time threw herself into the crowd. Generally, the amount of intimacy she showed towards her audience did stand out compared to other artists with such a huge following. This also includes regularly emptying water bottles over everyone's heads. Afterwards, she continues with the song "that changed her life" a few years ago – i don't wanna be your girlfriend results in the biggest mosh pit of the evening and finishes the show in a way that leaves you exhausted but hungry for more. Every single person in that club tonight definitely leaves with a little more serotonin in their body, I can guarantee you that.