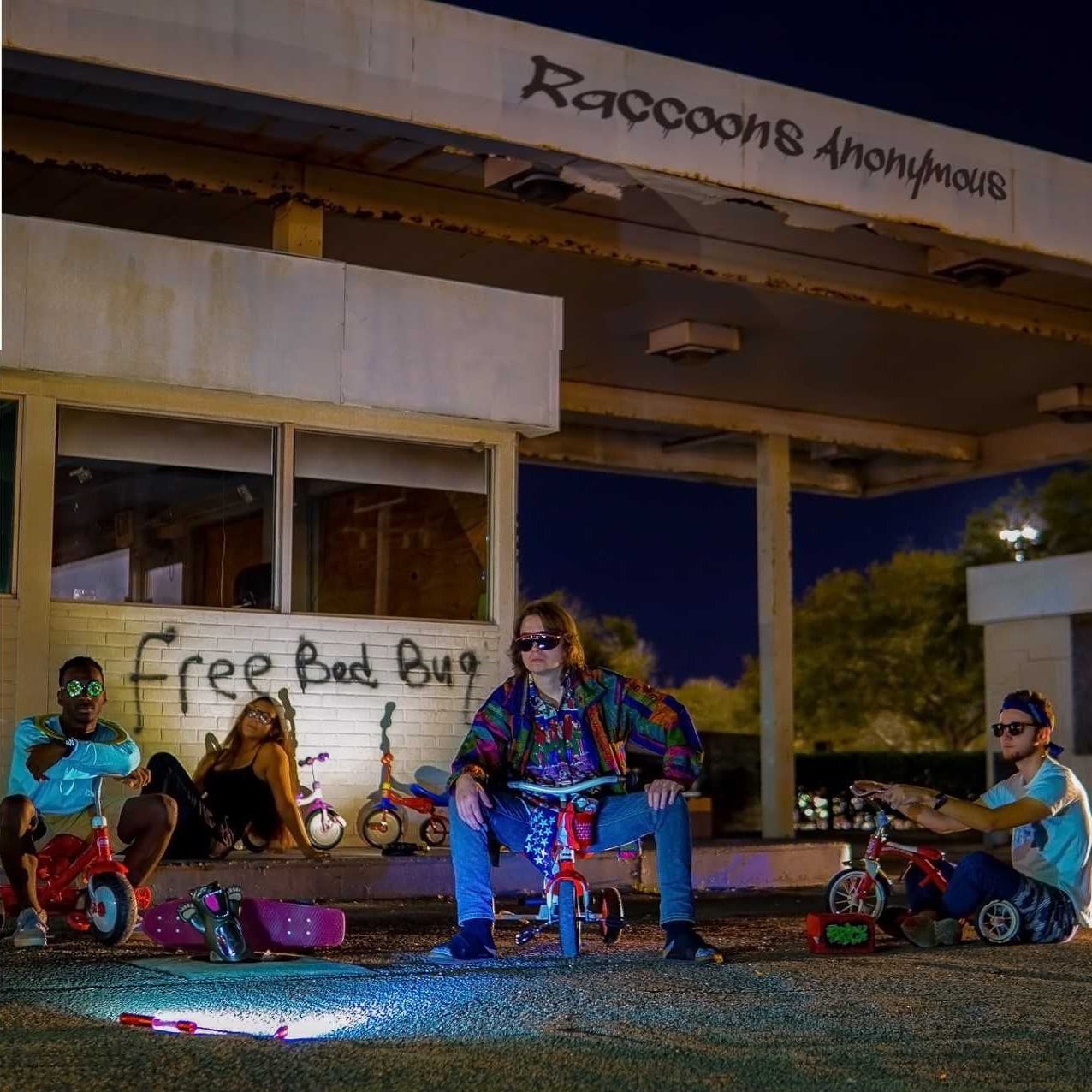 Raccoons Anonymous klingen deutlich krasser nach Jimi Hendrix, als ich es zuerst wahrhaben wollte. Something is Most Definitely Wrong fetzt ordentlich und lässt vergangene Zeiten wieder aufleben.
Die vierköpfige Gruppe aus Central Florida mit Something is Definitely Wrong ein echt rockiges und psychedelisches Brett abgeliefert. Der Song ist aus ihrer zweiten EP Free Bed Bugs entnommen und muss genau genommen nach dem anderen Song auf der EP Something Might Be Wrong gehört werden. Raccoons Anonymous machten 2018 ihr Debüt mit der EP From 17, wobei ich persönlich Free Bed Bugs etwas fetziger finde.
Something is Most Definitely Wrong klingt stark nach Jimi Hendrix, Cream oder The Black Keys und zwar in der Reihenfolge. Raccons Anonymous haben hier wirklich ihre Hausaufgaben gemacht, denn ich tue mich ehrlich gesagt schwer damit, zu glaube, dass eine Band im Jahr 2019 Musik machen, die wie straight aus den 70s kommt. Tatsächlich ist es aber möglich.
Die Lead-Gitarre gibt dem Song die gewisse Kante und die Vocals tragen auch ihren Teil dazu bei, dass ich mir vorstellen, dass die Nummer der Soundtrack für einen Blockbuster sein könnte. Der verruchte Badboy, der am Ende aber eigentlich gut ist, betritt die Bühne. Er zündet sich lässig eine Zigarette an und wirft das Streichholz weg. Dann explodiert irgendwas im Hintergrund. Natürlich findet alles in Zeitlupe statt.
Ich finde den Song gut, weil ich beim hören nicht das Gefühl hatte, dass Raccoons Anonymous irgendwas modernisieren wollten. Normalerweise werden alte Genres immer hektisch und verzweifelt mit neueren Genre-Elementen aufgepimpt, um sie massentauglich zu machen, doch Something Is Most Definitely Wrong klingt einfach genau so, wie er klingt. Das ist authentisch und authentisch ist gut! Something Is Most Definitely Not Wrong mit der Nummer. For Sure! 🙂
Mir scheint es so, als würden Elemente der amerikanischen Gitarren-Musik für junge Producer wieder interessant zu werden. Erst neulich hatte ich den israelischen Künstler D Fine Us mit seiner Single Post Truth Era Blues vor mir, in der man eine echt schwarze, bluesige Mississippi-Gitarre mit Bottle-Neck-Einsatz hören kann. Mag ich irgendwie 🙂