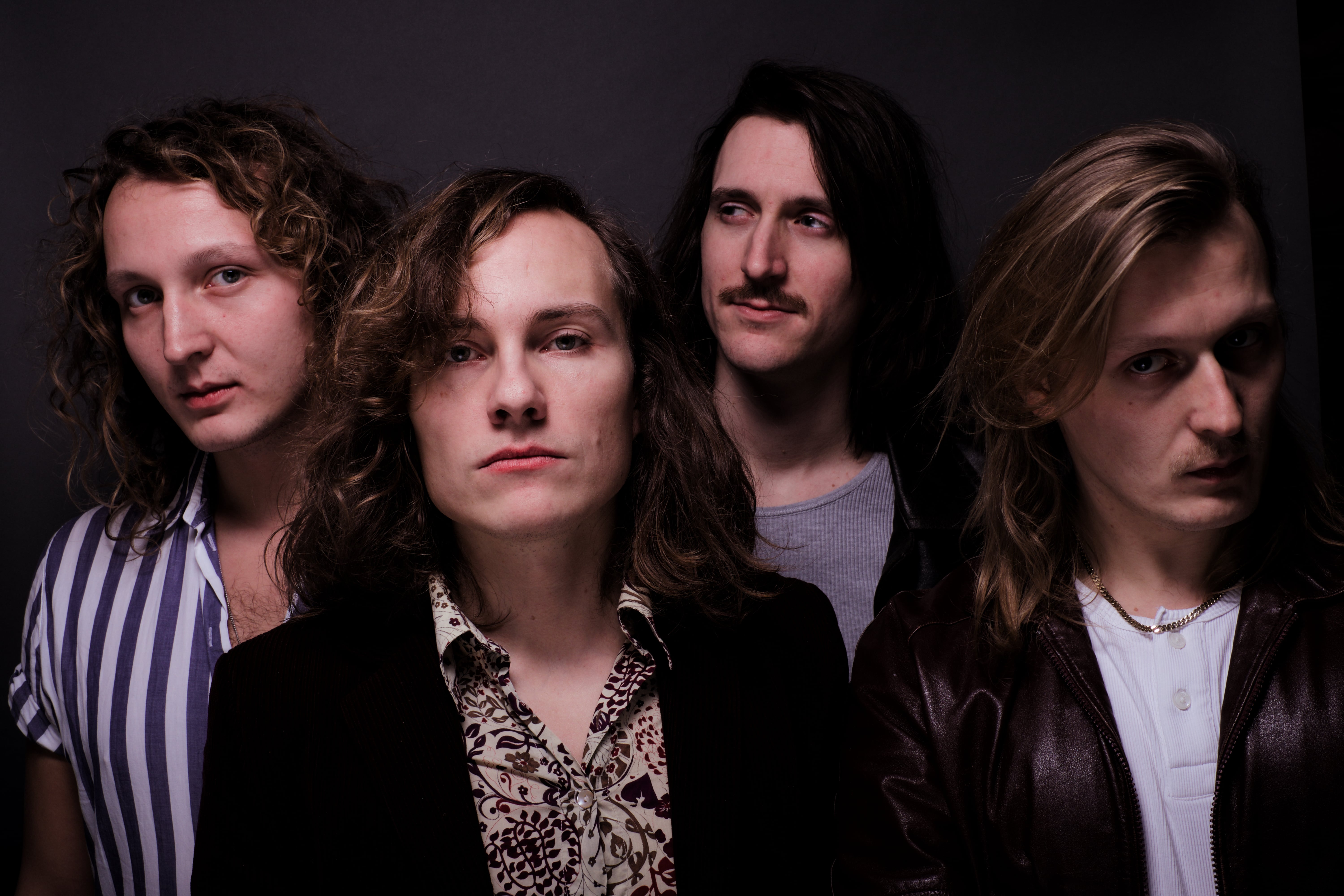 Okta Logue aus Darmstadt, melden sich nach drei Jahren mit ihrem neuen Album Runway Markings zurück. 
Wer Okta Logue auf Instagram folgt, der hat sicherlich schon mitbekommen, dass die vier Darmstädter schon seit längerem an neuen Sachen arbeiten. Nachdem bereits zwei großartige Singles vom neuen Album Runway Markings ausgekoppelt wurden, ist die Katze nun aus dem Sack.
Das neue Album kommt am 31.Mai und ist das vielleicht größte Album der Band. Grund genug, um sich ein wenig mit den Hintergründen der Band und der Entstehungsgeschichte der neuen Platte zu befassen. Das Quartett aus Darmstadt im Interview:
Okta Logue und Runway Markings
Tim: 2016 kam ja euer letztes Album Diamonds and Despair. Danach ist es ziemlich still geworden um Okta Logue. Habt ihr sofort angefangen, neue Songs zu schreiben oder war erstmal eine kleine Pause angesagt?
Benno: Auf den Release der Platte folgte ja erstmal eine ausgiebige Tour und viel wichtiger noch der Wechsel von Nicolai Hildebrandt zu Max Schneider an den Keyboards, weshalb es also erst einmal genug zu tun gab. Als sich der ganze Trubel dann etwas gelegt hatte, begannen wir allerdings recht zügig mit dem Songwriting.
Tim: Mit dem großartigen Album Diamonds and Despair habt ihr die Messlatte schon ziemlich hoch gelegt. Habt ihr euch denn vom vorangegangenen Erfolg unter Druck gesetzt gefühlt?
Benno: Eigentlich nicht. Wir sind als Band an Diamonds and Despair sehr gewachsen und hatten das Gefühl endlich die Werkzeuge in der Hand zu halten, um den Sound zu kreieren der uns seit Längerem vorschwebte. Max brachte zusätzlich noch  einen  ganz  anderen Spielstil mit, der  uns  völlig neue Möglichkeiten eröffnete. Daher waren wir also bester Dinge und voller Tatendrang.
Tim: Die Singles klingen schon nach Okta Logue, allerdings etwas gereifter und leichter. Habt ihr etwas am Songwriting-Prozess geändert?
Philip: Benno und Ich haben die meisten Songs diesmal schon im Vorfeld recht gut ausgearbeitet, was auf jeden Fall den Charakter der jeweiligen Stücke deutlicher zu Tage treten lässt. Die Vision das Album luftiger und leichter klingen zu lassen entstand recht früh und ist dabei natürlich nicht zuletzt auch unserem Produzenten Johann Scheerer zu verdanken.
Tim: Eure Musik klingt wie straight aus den 70s hergebeamt! Wie erschafft ihr diese Atmosphäre?
Philip: Auch wenn wir unsere Musik nicht als Retro-Rock begreifen, sind wir klanglich natürlich in den 70s zu Hause. Gleichzeitig gibt es Epochen übergreifend unzählig viele Künstler und Künstlerinnen, mit ganz unterschiedlichen  Soundwelten, die uns begeistern.  Wir sind, wie man sich vielleicht denken kann, alle ziemliche Musikfreaks und deswegen auch sehr  detailverliebt. Oft kommt dabei das eine zum anderen und ist gar kein so bewusster Prozess.
Tim: Bisher habt ihr ja schon zwei Singles vom neuen Album veröffentlicht. Wie waren da so die Resonanzen? Wurden die Songs gut aufgenommen?
Robert: Auf jeden Fall! Es tut gut nach der langen Zeit im Studio endlich nach draußen zu gehen und andere Leute an dem Teil haben zu lassen woran man so lange hinter verschlossenen Türen gearbeitet hat.
Tim: Inwiefern spiegeln diese Veröffentlichungen denn den allgemeinen Sound des neuen Albums ab?
Max: Wir haben definitiv noch ein paar Asse in der Hinterhand! 😉
Tim: Man konnte den Prozess ja ganz gut über euren Instagram-Channel verfolgen, aber was war denn euer persönliches Highlight während der Recordings für Runway Markings? 
Benno: Die Zeit bei Clouds Hill war wirklich großartig. Es herrschte ein wundervolle und wirklich elektrisierende und kreative Arbeitsatmosphäre. Es hatte wahrscheinlich jeder seine persönlichen Highlights und es gab zu viele tolle, magische Momente, um hier nur einen zu nennen.
Tim: Ihr habt bestimmt auch vor, die Musik auf die Bühne zu bringen, richtig? Wie sieht es da aus, was könnt ihr schon verraten?
Philip: Klar! Wir gehen Anfang Juni auf Release-Tour und  bringen die eine oder andere Überraschung mit, die es  in dieser Form noch nicht gab. Es macht wahnsinnig Spaß, die neuen Songs zu spielen! Das wird wirklich großartig.
Tim: Habt ihr zum Abschluss noch eine Message an die Fans?
Danke euch allen, die  Ihr uns seit Jahren die Stange haltet!  Wir freuen uns euch wieder zu sehen, kommt  zu den Shows, denn es wird ein Fest!
Runway Markings erscheint am 31.05.2019 über Clouds Hill.
Okta Logue Runway Markings Tour 2019
Sa. 01.06. Hamburg // Molotow
Mi. 05.06. Köln // Luxor
Do. 06.06. Frankfurt // Zoom
Fr. 07.06. Berlin // Bi Nuu
Sa. 08.06. München // Milla
So. 09.06. Wien // B72