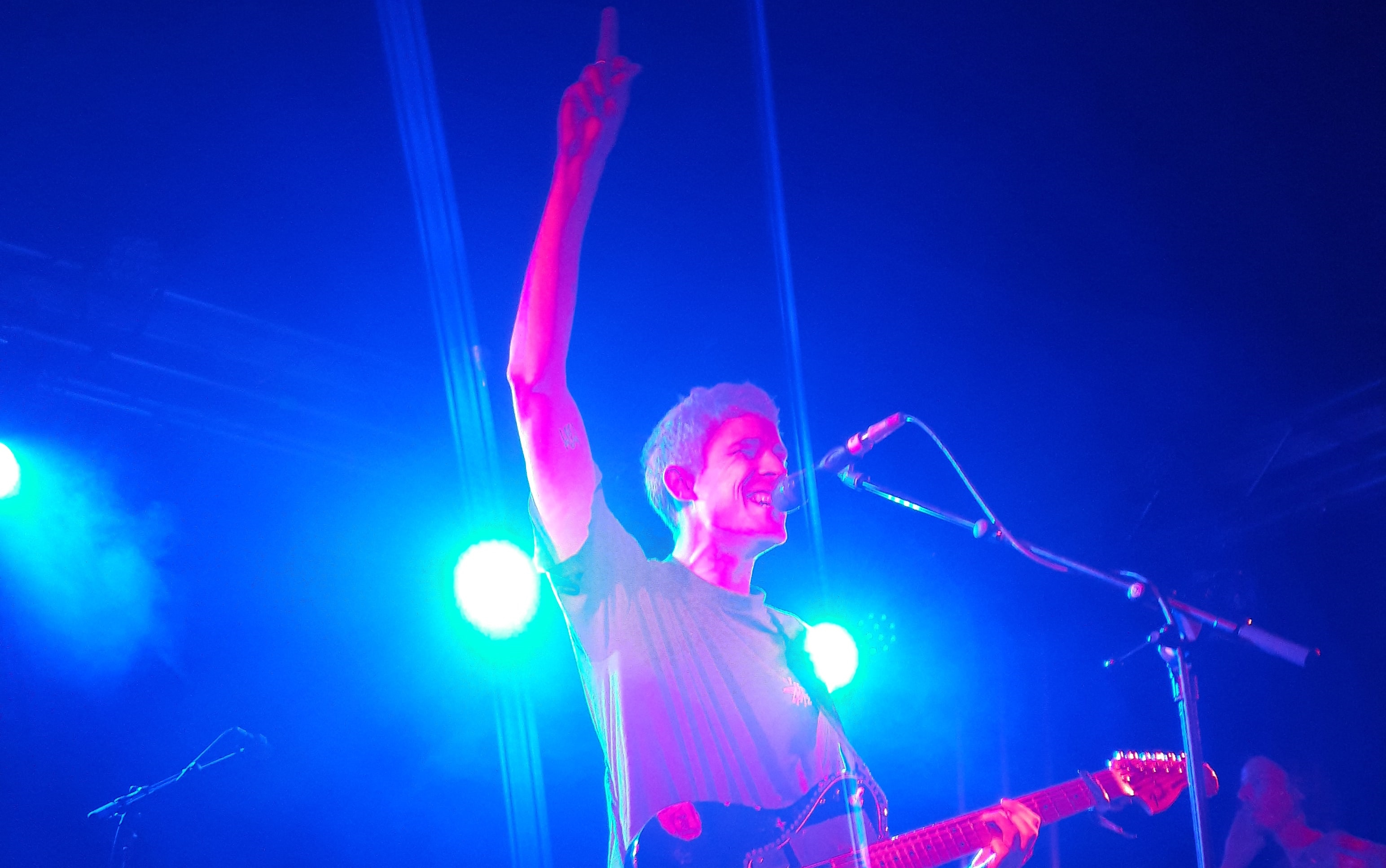 Ich war neulich wieder mal in Berlin, um ein Stück meiner Seele in den Spätis und auf den dreckigen Gehwegen dieser Stadt zu lassen. Zufällig spielte Palace zur selben Zeit am selben Ort ein Konzert, sodass ich mich am Donnerstagabend im Frannz Club wiederfand und dieser grandiosen Band aus der ersten Reihe zurief, wie geil sie sind. Außer mir waren noch viele junge Damen ohne BHs und Leute auf MDMA da, also ein ganz normaler Konzertabend in der Hauptstadt.
Der Vollständigkeit halber und weil die Vorband Arionce dann doch ganz cool war, möchte ich auch ein paar Worte über sie schreiben. Arionce waren relativ jung, etwas schüchtern und sahen so aus, als würden sie nach dem ersten Zug an der Kippe erstmal husten. Die Musik war aber echt hörbar. Eine Mischung aus Palace, Foals und noch ein paar Brusthaare von Lion Sphere. Kleine Anmerkung meinerseits: Der Drummer könnte etwas mehr Spaß an seiner Arbeit zeigen, und die Band als Gruppe könnte etwas selbstbewusster auftreten, denn hinter der Musik muss sich Arionce auf keinen Fall verstecken! Definitiv ein Lesezeichen gesetzt.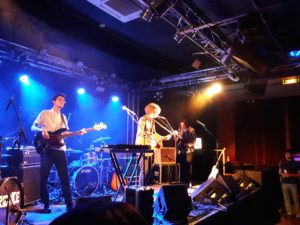 Doch kommen wir nun zu den vier Vorzeige-Schwiegersöhnen von Palace, die haben mir nämlich wirklich sehr, sehr gut gefallen. Wer des Öfteren auf Pickymagazine abhängt, weiß bestimmt, dass ich manchmal schon gut austeile, wie beim pokern. Bei Palace fällt mir das aber tatsächlich schwer, weil ich wirklich entzückt war von dem Konzert. Die vier milden Jungs aus London hatten mich sowieso seit ihrem Debüt-Release 2016 von sich überzeugt. Daher ist das hier eigentlich nur ein gegenseitiges nach-Hause-bringen 🙂
Frontsänger Leo Wyndham sieht ein wenig aus wie Ryan Gosling, nur dass er deutlich besser singt und daher auch nicht so wunderbar verführerisch die Fresse halten kann, wie der gehypte Schauspieler. Die Outfits der vier Musiker wirkten so, als hätte die Alternative-Batterie bei der Hälfte der Band ihren Geist aufgegeben. Während zwei so aussahen, wie Raucherwohnungen riechen, hatten die anderen beiden Marken-T-Shirts an. Vans und Stüssy lassen grüßen. Ich habe das Gefühl, dass die vier Jungs normaler waren, als ich anfangs angenommen hatte. Leos schwarze Gitarre sah übrigens auch ziemlich fetzig aus, so mit eingekratzten Symbolen, gelber Farbe und grünem Klebeband.
Palace haben bis auf eine oder zwei Ausnahmen ihre besten Songs in die Setlist gepackt. Ich war wunschlos glücklich: So Long Forever als Opener. Alle sind dabei. Dann kommt Veins, irgendwo mittendrin. Bitter und It's Over zum Abschluss. Der Hammer! Außerdem haben sie noch drei oder vier neue Songs gespielt, darunter zum Beispiel All With My Stride. Der war richtig langsam und deep. Alle im Raum waren mal kurz still und haben zugehört. Neben mir steht Ryan Gosling mit einem Zahnstocher zwischen den Zähnen und nickt bedächtig. Gänsehaut. Ich freue mich richtig auf die zweite Platte von Palace, muss ich an dieser Stelle mal kurz loswerden. Vielleicht spoiler ich das jetzt, vielleicht auch nicht, aber Mister Drummer meinte zu mir, dass das neue Album nächsten Jahr im Frühjahr kommt. Lass ich mal so stehen. #fakenews. Bei rechtlichen Anfragen bitte meinen Anwalt in Malta konsultieren, die Adresse steht irgendwo im Impressum 😉
Jemand muss Palace mal sagen, dass sie ein echter Geheimtipp sind und sich auch so verhalten dürfen auf der Bühne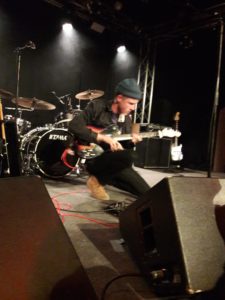 Man hat auch gemerkt, dass die vier Londoner ein eingespieltes Team sind, denn die Band hat einfach richtig sauber abgeliefert. Vocals wie aus dem Studio, richtig feine Gitarrenriffs, -solos und die Einsätze und Performance waren auch immer selbstbewusst und on Point. Ganz interessant fand ich den Umstand, dass die vier trotz allem etwas überfordert mit der Situation wirkten. Fast so, als  hätten sie die Begeisterung und Energie des Publikums nicht wirklich erwartet.
Schon beim Gitarre stimmen war der kleine Leo nämlich richtig unkonzentriert und seine Hände zitterten. Das fand ich richtig putzig. Ich hätte ihm gerne gesagt, dass wir alle auf seiner Seite sind, aber ich wollte ihn nicht stören 🙂 Auch der Drummer mit den feinen Augenbrauen hat zwischenzeitlich sehr aufgeregt gewirkt und war manchmal auch leicht off-beat. Man muss denen mal sagen, dass die ein echter Geheimtipp sind und sich ruhig auch so verhalten dürfen auf der Bühne 🙂
So hoch ich die vier Kerle auch lobe, eine Sache hat mich richtig geärgert. Obwohl Leo sogar angekündigt hatte, keine Zugabe zu spielen, dachte ich eigentlich, er macht einen Witz. Als dann aber nach dem letzten Song wirklich nichts mehr kam, war ich schon zimlich salty. Zwei oder drei Nummern wie zum Beispiel Holy Smoke oder Fire In The Sky wären nämlich locker noch drin gewesen. Ich werde da mal das BZA (Bundes-Zugabe-Amt) darauf ansetzen und hoffen, dass keine Indie-Nazis dort arbeiten.
Zum Glück sind alle vier aber noch zum Merchandise gekommen, das fand ich dann wiederum korrekt. Eigentlich wollte ich mir noch eine Platte kaufen und sie signen lassen, allerdings waren schon alle verkauft. Dafür hab ich jetzt alle Autogramme auf einem Stück Pappe. Geil, was? Als ich dann ein Foto machen wollte, hat mein Steinzeit-Handy sich quer gestellt, wie Arschlöcher ihr Rad in der U-Bahn. Der Blitz wollte nicht angehen. Man sieht also auf dem Bild ganz unscharf die Umrisse von Palace und mir. Auch nicht schlecht, oder? Man könnte praktisch sagen, ich habe als Palace-Groupie auf ganzer Linie verkackt.
Alles in allem war das aber natürlich ein super schöner Abend! Ich habe als Palace-Fanboy in der ersten Reihe richtig viel Spaß gehabt. Doch auch als normaler Mensch solltest du dir Palace nicht entgehen lassen, wenn sie in deiner Stadt spielen! Die Londoner sind nämlich genau wie Okta Logue ein richtiger Geheimtipp.
Wenn du die Band bisher noch nicht kanntest, dann war dein Leben eine Lüge. Die Wahrheit heißt Palace und du hörst sie auf ihrem Spotify-Profil. In Plektrum. Amen.