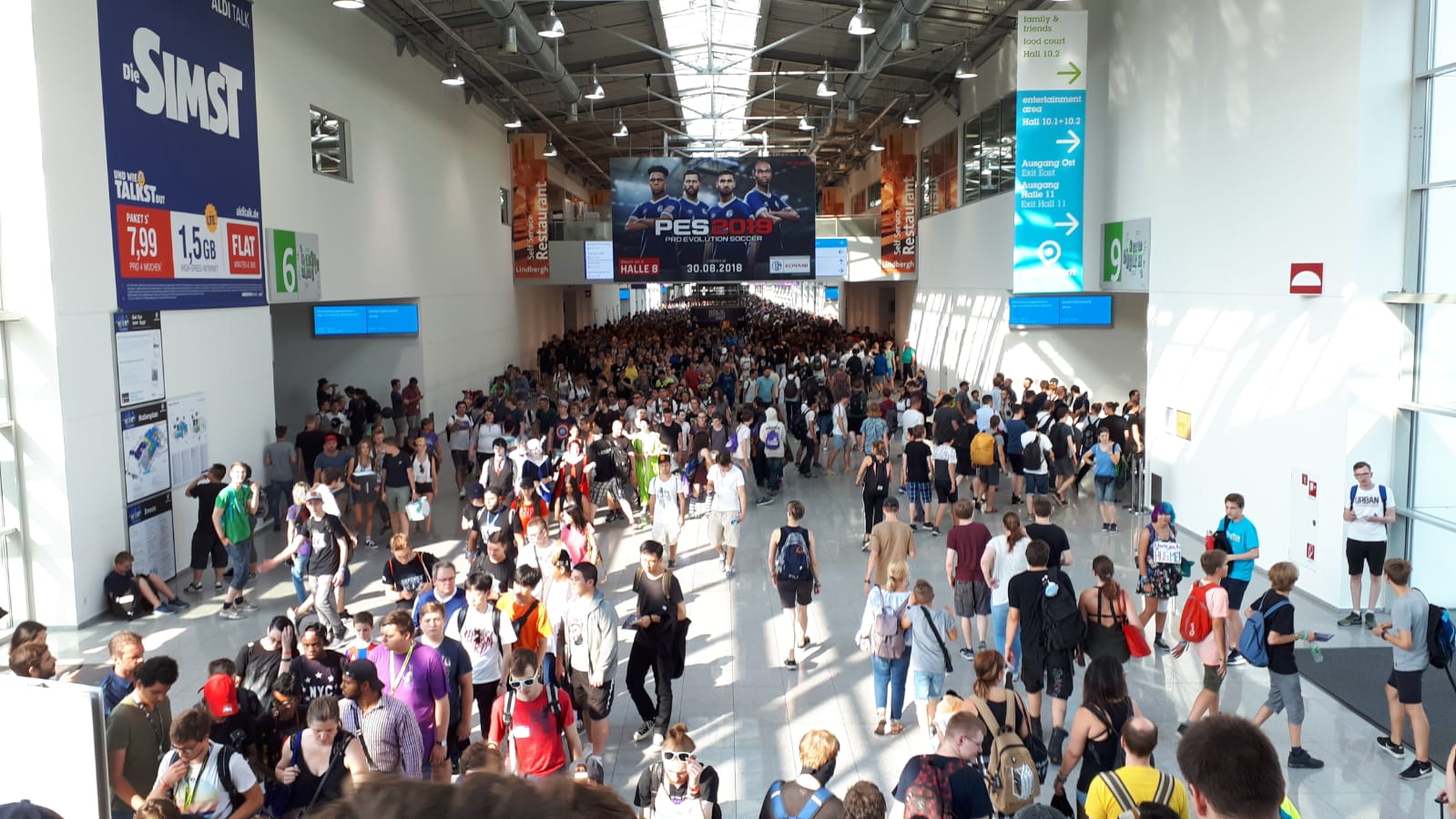 Es ist wieder Gamescom-Zeit! Und dieses Jahr sogar eine ganz besondere, denn die weltweit größte Messe für Nerds und Gamer feiert 10-jähriges Jubiläum. 2017 kamen in den vier Messetagen insgesamt über 350.000 Menschen aus über 100 Ländern, um die Spieleentwickler und ihre neuen Games zu feiern. Tendenz steigend.
In diesem Bericht werde ich meine Erlebnisse vom Pressetag der Gamescom 2018 zusammenfassen, einer jährlich wiederkehrenden Parallelwelt, bestehend aus viel Plastik, Achselschweiß und social anxiety.
Tim und die Gamescom
Ich war das erste Mal mit 15 Jahren auf der Gamescom, das letzte Mal dann mit 17 Jahren. Ist also bereits fünf Jahre her, dass ich versucht habe, mich ohne Alters-Bändchen in die FSK18-Spiele reinzusneaken. 😉 Ich weiß gar nicht mehr, wie sich das anfühlt.
Als ich also dieses Mal die Treppen der Koelnmesse hinabsteige, um mich in das muffig-verbraucht riechende Getümmel zu stürzen, habe ich einen kleinen Anfall von Nostalgie: Aufregung, leichte Panik. Wo stelle ich mich zuerst an? Welche Gimmicks wird es wohl dieses Mal geben? Obwohl ich mittlerweile komplett aus der Gamerszene raus bin, kann ich doch mit all diesen Menschen, die ihre Berufung im zocken gefunden haben, mitfühlen. Ein Code aus 16 random zusammengesetzten Zeichen entscheidet darüber, wer in der BETA die neue Skin auf seinen Charakter setzen darf und wer nicht. Das waren noch Probleme. #Melancholie
Die Besucher
Obwohl es viele Gemeinsamkeiten von Gamescom-Gängern gibt, unterscheiden sie sich doch in vielen Punkten. Ich kann eine leicht männliche Bsuchertendenz erkennen, wobei nach eigenem Gefühl, die Zahl der Frauen in der Gamer-Szene stark zugenommen hat. #findichgut. Alterstechnisch liegt der Durchschnitt wohl bei 25-30 Jahren, wobei Ausreißer in beide Richtungen keine Seltenheit sind. Der 12-jährige Lukas und der 59-jährige Willi sitzen nebeneinander am Heroes of the Storm-Stand und spielen gemeinsam ein Match. Ein schönes Bild. Solange es beim gemeinsamen spielen bleibt. #catfishing.
Was jedoch alle Gamer gemeinsam haben, ist etwas, was man in der Szene auch Bildschirmbräune nennt: Ungesund wirkende, weiße Haut, viele Pickel. Dazu kommen außer Form geratene Körper und die totale soziale Phobie. Ich habe aus Versehen einen Gamer beim vorbei gehen angerempelt und mich daraufhin sofort entschuldigt. Sein Gesichtsausdruck wirkte allerdings so, als hätte ich ihm ein tiefgreifendes, bleibendes Trauma zugefügt. Der Blickkontakt dauert den Bruchteil einer Sekunde, dann murmelt auch er etwas nach Entschuldigung klingendes und geht auf den Boden starrend weiter. Ich habe voll das schlechte Gewissen. Irgendwie finde ich solches Verhalten knuffig und befremdlich zugleich.
Was ist denn bitte so schlimm daran, Menschen in die Augen zu schauen wenn man mit ihnen spricht?
Cosplays
Ich persönlich bin ein großer Fan von Cosplays. Deswegen freue ich mich auch immer, auf der Gamescom mutige Menschen zu sehen, die ihre fiktiven Idole real werden lassen. Klar, man sollte wissen, wann man das Bikini-Cosplay tragen darf und wann nicht. Doch davon abgesehen, stecken die meisten Leute extrem viel Mühe, Zeit und Geld in die oftmals sehr originalgetreuen Kostüme. Man sieht Figuren aus Animes und Fantasyspielen wie Final Fantasy oder WoW (World of Warcraft, du Hinterwäldler).
Viel zu oft gesehen und für sehr witzig befunden: Eine verkleidete Frau wird von einer Traube Männer umringt und bestaunt. Die dreistesten der Gaffer richten ihre Smartphones dann einfach ungeniert auf die Brüste oder den Hintern der Dame und schießen Fotos im Takt einer AK-47 . #taktaktak. Ich muss dabei immer an ein Stück Fleisch denken, was ins Piranhabecken geworfen wird.
Die Spielstände der Aussteller
Manche Stände sind einfach nur plump mit einem Banner dekoriert und eine unmotiviert wirkende Messehostess sitzt, auf das Handy blickend, hinter dem Stand. Wie einladend. Vor allem die Spieleentwickler an den kleinen Ständen tun mir leid: Nach der Test-Runde kommen sie freudestrahlend auf mich zu und blicken mich erwartend an: Did you like it? How was the gaming experience? – Ja was soll ich sagen, ich habe einen Shooter auf einem iPad gezockt – ganz nett trifft es wohl am besten. Enttäuschung. Ich verabschiede mich mit einem höflichen Lächeln und habe wieder das Gefühl, ein Selbstbewusstsein zerstört zu haben.
Ich finde übrigens die Sozialdynamiken, die sich an großen Ständen entwickeln, sehr interessant: Je dicker und ungepflegter der Mitarbeiter ist, umso höher steht er in der Rangordnung. Meistens ist der Hauptverantwortliche des Standes die Person, die du als erstes riechen kannst. #true. Die darunter liegenden Ränge lassen sich schon viel leichter zuordnen: Teilzeitgamer mit leichtem Bauch und Pferdeschwanz, Gelegenheitsspieler mit Bauchansatz, Student mit Semesterferienjob. Alle hören auf das Wort des Stand-Ältesten. Einzige Ausnahme: Die hübsche blonde Messehostess mit der Engelsaura kann den Anführer des Standes betören und sich so über diese sozialen Ränge hinweg, frei bewegen.
Andere Stände wiederum haben massive Umbauarbeiten in Kauf genommen, um schon von weitem auf sich aufmerksam zu machen. Manche Aussteller haben ganze In-Game-Szenarios aus Plastik gebastelt und lebensgroße Figuren aus dem Spiel (meistens Monster) eingefügt. Lichteffekte und verkleidetes Personal runden den Auftritt ab und sorgen für die richtige Stimmung. Das macht Eindruck und versüßt die Wartezeit.
Wartezeiten
Da sind wir auch schon beim Thema: Wartezeiten. Bei Spielen wie Battlefield oder anderen hochfrequentierten Spielen habe ich mich gar nicht erst angestellt. Wartezeiten von mindestens einer Stunde, um 15 Minuten ein halbfertiges Spiel zu spielen, ergeben für mich keinen Sinn. Viel lieber habe ich kleine Spielchen wie gefühlt jedes beliebige, japanische ich-drück-einfach-irgendwelche-Knöpfe-und-hoffe-auf-das-beste-Spiel mit meinem Bruder gespielt. Das hat einfach mehr Spaß gemacht, und darum geht es beim Zocken ja auch am Ende: Spaß.
Der Pressetag war zwar voll, aber nicht überlaufen. Wenn ich mir vorstelle, dass an normalen Tagen wirklich Wartezeiten von 4-5 Stunden zu erwarten sind, dann verstehe ich auch den Sinn eines eintägigen Gamescom-Besuches nicht. Man kommt angereist, kann im besten Fall höchstens 3 Titel anspielen und fährt dann wieder nach Hause. #toll. Da muss man doch mehrere Tage einplanen um wirklich alles zu sehen, oder ist das sowieso die gängige Art?
Die Spiele
Ich habe das Gefühl, dass die Spiele in zwei Extreme abdriften: Auf der einen Seite hat man den Farmsimulator 2018 und auf der anderen Seite hat man mutierte Viecher, die den Spieler (schon wieder) 
durch eine postapokalyptische Stadt jagen. Ein Spiel will mir sogar mutierte Bäume, die Feuer speien verkaufen. Das finde ich dann etwas uninspiriert. Deswegen lasse ich auch dort den Flyer liegen. Erstaunen. Enttäuschung. 
Wahrscheinlich geben die Spieleentwickler den Leuten nur das, was sie wollen. Entweder irgendein berieselndes Spiel zum Abschalten (Leck-mich-am-Arsch-Simulator) oder eins zum Aggressionen abbauen (gefühlt jeder Shooter, auf dem man einer dünnen Storyline folgend, alles abknallt, was sich bewegt).
Das Spiel des Lebens
Ja, die Überschrift klingt jetzt erstmal sehr episch, soll aber kurz Aufmerksamkeit erzeugen :-D. Mein persönliches Fazit zu dieser ganzen Gaming-Geschichte kommt jetzt: Ich kann absolut nachvollziehen, warum Spiele eine hypnotische und abhängige Wirkung auf Menschen haben. Insbesondere auf jene, die mit der Realität, in der wir leben, nicht wirklich zurecht kommen. In diesen endlosen Spielwelten erlebt man die besten Abenteuer: Du kannst der stärkste Healer oder Warlock oder sonstwas sein. Du musst nur viel Zeit und Geld in die Spiele investieren. Wenn es doch nur im echten Leben so wäre. 
Aber (musste ja jetzt kommen), am Ende ist es mir dann doch zu schade um meine Lebenszeit: Tausende Stunden, die ich verschwende, um meinen Charakter aufzuleveln sind am Ende alle futsch, wenn der Server abschmiert oder das Spiel einfach alt wird. Während meine Skills im realen Leben nicht verschwinden. Einmal Fahrrad fahren gelernt, bleibt dieser Skill für immer. Wisst ihr, was ich meine?
Deswegen sind Spiele letzten Endes für mich einfach nur ein netter Zeitvertreib, die aber niemals die  Freuden des echten Lebens simulieren können. Zumindest noch nicht.
PS: Noch mehr Fotos von der Gamescom findest du auf meinem Instagram-Channel.  🙂