FELIN aus Schweden hat mit ihrer neuen Single Black Heart eine extrem verruchte und laszive Surf-Rock-Hymne erschaffen, die jeden aufhorchen lässt!
Auch wenn es zuerst nicht so wirkt, sind FELIN doch ein Duo und keine Ein-Frau-Show. Der Name des Projektes setzt sich nämlich aus Elin Blom, der Künstlerin und Fredrik Etoall, des Fotografen und Art Directors zusammen (Elin + dem F von Fredrik). Praktisch die schwedische Version von den Gorillaz.
Vor vier Jahren veröffentlichten FELIN ihre erste Single Revolt, welche den Grundstein einer steilen Karriere legen sollte. Denn viele weitere eigene Releases und Features mit berühmten Künstlern wie beispielsweise den Rolling Stones, Icona Pop und Adam Lambert später, wirkt es nicht so, als wären FELIN schon am kreativen Ende. Ganz im Gegenteil: Nach White Noise, ist Black Heart nämlich schon die zweite gedroppte Single dieses Jahr, die uns um die Ohren fliegt.
Ich persönlich war sofort Feuer und Flamme für die Single. FELIN haben hier eine Hymne für unverstandene Bösewichte und alle anderen, die auf ästhetische Art und Weise Rache wollen, erschaffen. Nicht nur, dass die Musik verdammt gut ist, nein, obendrauf gibt es noch einen tollen, aussagekräftigen Text und eine unfassbar sexy Stimme. Das Intro allein klingt ziemlich iconic und gibt sofort die Richtung vor, in die der Song gehen wird. Dann fängt Elin Blom an zu singen:
I see you dancing in my darkest thoughts

this fantasy i have will soon be ours

you're the rose baby im the thorn

i got a whole lot of love and that could break your bones
Ich bin erstaunt darüber, wie schnell und einfach man ein gewisses Bild von Menschen zeichnen kann. In meinem Kopf entsteht wirklich eine Art kleiner Film. Ich sehe viele spannende Charaktere und deren Interaktionen miteinander. Kurze und schnelle Bilder, aber die rote Linie ist da. Schwer in Worte zu fassen, aber mir gefällt es richtig gut! 🙂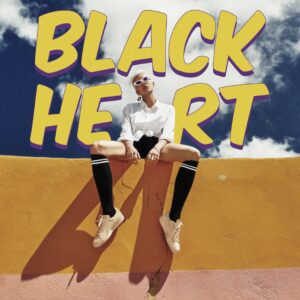 Der Chorus geht dann richtig ab: Zuerst wird richtig gefetzt und wenn sie dann aber singt and a poisoned soul bekomme ich richtig Gänsehaut. Black Heart drückt genau die richtigen Knöpfe bei mir! Das Solo gegen Ende des Songs ist zwar nicht wirklich aussagekräftig, passt aber dennoch perfekt ins Bild und unterstützt die gesamte Szenerie.
Seit langem mal wieder ein Song, der so richtig Flow hat und in sich stimmig ist. Black Heart erzählt von Anfang bis Ende eine Geschichte mit Wiedererkennungswert und ist dabei authentisch und ehrlich.
Der Song ist zwar mit 2:54 relativ kompakt, hält die Spannung und das Tempo aber trotzdem konsequent oben. Keine leeren Phasen, keine Durchhänger. Eine einfache Songstruktur: Verse und Chorus, Repeat, dann ein Solo. So einfach kann es manchmal sein. Surf-Rock vom feinsten, ergänzt mit einer verdammt vielseitigen Stimme. FELIN erzeugen hier sowohl musikalisch als auch optisch eine wahre Freude.
Abgesehen davon, dass Elin sich vielleicht etwas zu lasziv gibt, und damit einfach gestrickte Männer von der Musik ablenkt, deckt sich das Musikvideo aber im Prinzip mit genau dem, was ich beim Hören der Musik selbst vor Augen hatte. An der Stelle möchte ich aber nicht zu viel verraten. 😉